'Billy On The Street' Is Coming Back!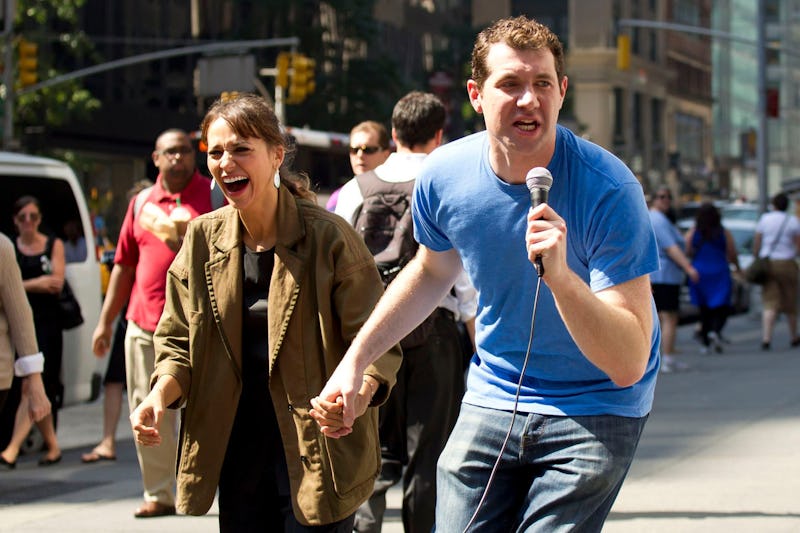 If your life has felt a little too quiet lately, it's probably because Billy on the Street, comedian Billy Eichner's shout-filled game show, hasn't aired a new episode in nine months. Season 3 of the hilarious series ended all the way back in May, with an finale featuring Parks and Rec's Nick Offerman spring through the streets of New York alongside the host. With no news of a renewal, the future of the beloved show felt uncertain — but on Tuesday, fans breathed a sigh of relief when Billy on the Street was renewed for its fourth season.
According to the announcement, 10 new Billy episodes will air late this year, and it doesn't appear that the format of the show — Eichner and a celebrity guest lovably harassing New Yorkers about pop culture — will change in any significant way. Yet practically everything else about the series is going to be different, thanks to a major deal with Turner Broadcasting. The company's TruTV will now air all new episodes (a switch from Fuse, which previously aired Billy), with encores to be shown on its sister network TBS. Turner now also owns the rights to all previous Billy episodes from its first three seasons. Additionally, the title of the show was changed slightly, from Funny or Die's Billy on the Street to Funny or Die's Billy on the Street with Billy Eichner. Got all that?
According to Turner Broadcasting System, Inc. president David Levy, the new deal presents a chance for the company to "tap into and expand the Billy phenomenon," and he's not exaggerating; in just a few short years, Billy's been nominated for awards, has been featured on the Emmys, and has included guests ranging from Lena Dunham to Lindsay Lohan. Eichner himself has become a star, with a main part on the upcoming Difficult People and a recurring role as Craig on Parks and Rec.
And clearly, the network has taken note. As part of the deal, Eichner will also develop new projects for truTV and Adult Swim, as well as half-hour comedy specials for TBS and truTV. That's a whole lot of Billy coming out — and for those of us who enjoy nothing more than watching a grown man scream at strangers for not knowing who Tatiana Maslany is, it couldn't be better news.
Image: TruTV