'Flare' Magazine's Models Just #WokeUpLikeThis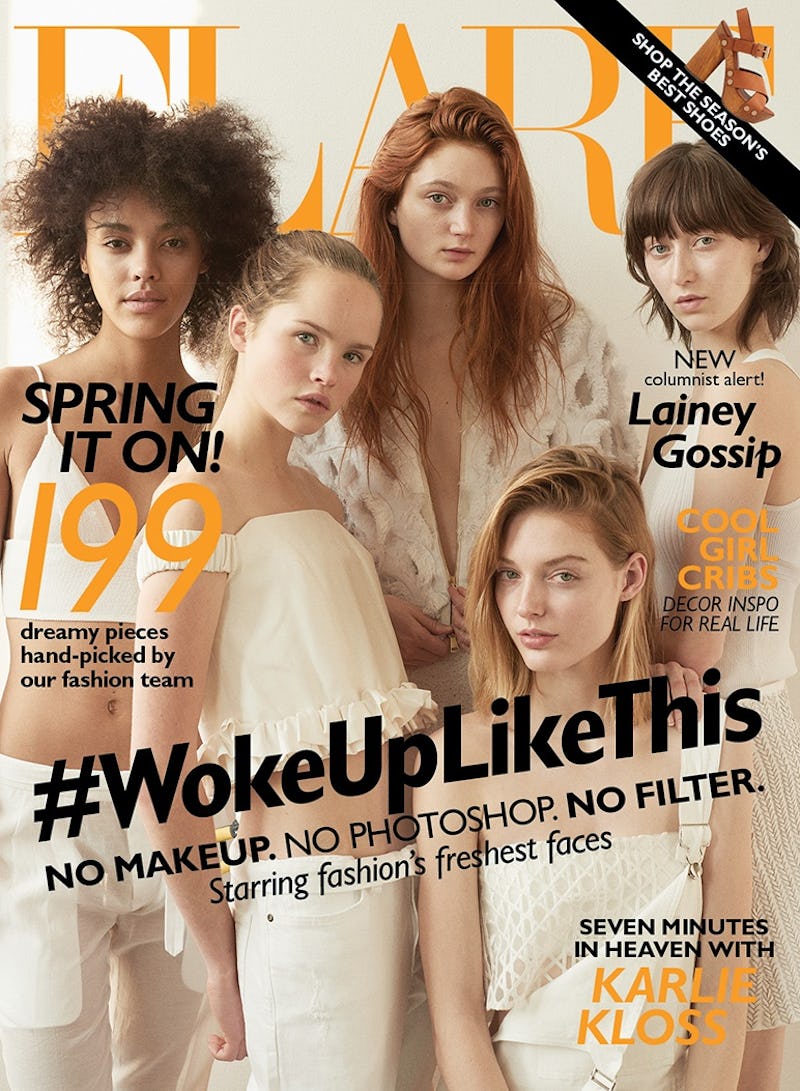 Remember those overtly photoshopped Jennifer Lawrence pics that were floating around the Internet last year? People were outraged (and with good reason) when Canadian fashion magazine Flare slimmed J. Law down and turned the Photoshop dial way, way up. Well, the mag is in the news again and, for a nice change of pace, this time Flare opted to skip the makeup and the retouching for its latest cover.
Flare's March 2015 cover features models Charlotte Mingay, Sophie Touchet, Jenna Lenfesty-Castilloux, Shelby Furber, and Sasha Hronis, all missing one noticeable thing — their makeup. In an effort to counteract the industry's unattainable beauty ideal, the mag did away with the Photoshop and utilized the #iwokuplikethis hashtag... for this month at least.
Truth be told, I think the #iwokuplikethis hashtag is complete BS. In my humble opinion, "natural beauty" can sometimes be just as unattainable as the airbrushed kind and it doesn't necessarily give women who don't look like Beyoncé the confidence to rock a clean, makeupless face. It's simply a socially acceptable bragging tool used to say "See how great I look at 6am?!" Nothing about seeing these images pop up on my Instagram feed makes me feel more comfortable in my own skin and neither will seeing this magazine cover sitting on my local newsstand.
Anyway, what's really rubbing me the wrong way about Flare's March cover is how it just feels like strategic damage control after their J. Law scandal... And there's nothing naturally beautiful about that.
Images: Flare.com