This Wallet Is Basically Impossible To Lose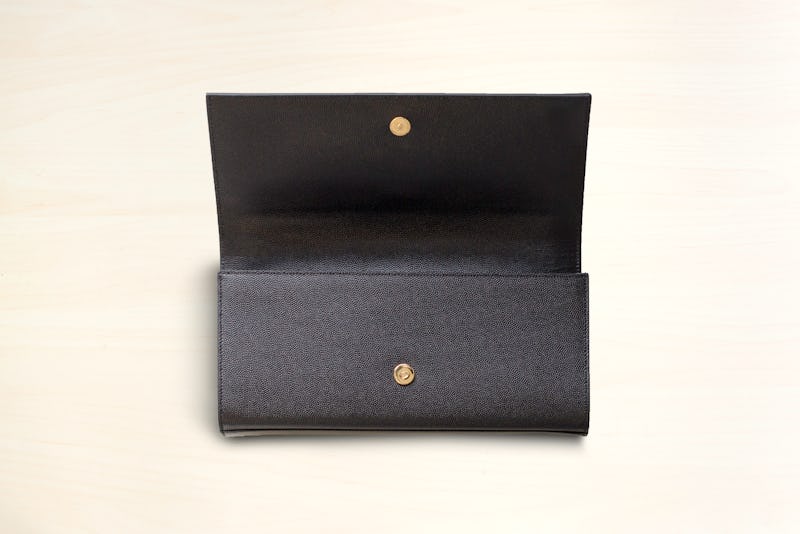 The average Millennial woman is a multitasker at heart with a burgeoning career, a healthy social life, and not-so-healthy obsession with her devices. While the image sounds glamorous and effortless, the reality can be harder to juggle, especially when one happens to be forgetful after a long day of meetings, emails, strategy sessions, and a particularly draining SoulCycle session. Enter Where's Wallet by MIJLO, which effectively transforms the frantic scramble for a lost wallet into a thing of the past.
MIJLO's Where's Wallet debuted on Kickstarter, as all good things do, on February 10th, combining two of a modern fashionista's favorite things: leather and wearable technology. The product's basic design features a minute sensor that users link to their phones using the handy Where's Wallet app, which essentially provides a trace on your wallet's whereabouts much like Apple's Find My iPhone. After downloading the app, users can place their phone next to the wallet to sync, and set their preferred notification range. When the wallet is left behind, an alert sound is emitted as a reminder for users to backtrack and pick up their lost item.
On the off chance that the wallet's coordinates are unavailable, the app gives users assistance by providing the wallet's last known location. Available in the simple Slip for a discounted Early Bird Price of $39, the roomier Bi-Fold for $59, and the streamlined Clutch for $79, each version of the product featured vegetable-tanned leather and contains the product signature tracking apparatus. For those who envision wearable tech as a clunky and obtrusive, you're in luck; Where's Wallet is neither, and the pebbled leather Clutch in particular could easily become the season's must-have minimalist accessory for an affordable price.
Aside from the sheer ingenuity of the idea, Where's Wallet is also a potential saving grace for clumsy or absent-minded fashionistas. Whether you find yourself occasionally dropping your belongings or simply finding your purse wedges behind the cushions of your couch, Where's Wallet is poised to shave a valuable few minutes off your getting ready time and take your stress level down a few clicks. And though no one wishes to think of falling victim to a robbery, Where's Wallet also serves as a backup plan in case the worst happens.
Where's Wallet is admittedly not for receipt hoarders or anyone who stuffs their wallet full of Pinkberry punchcards. Each wallet's proportions, much like its slim-lined and refined design, is meant to store cash and credit cards, not three years worth of business cards. However, for courageous tech-users who are willing to eliminate the clutter, Where's Wallet may be the best idea since, well, Find My iPhone.
Images: Courtesy MIJLO