Who Is Lila On 'Little Women: LA'?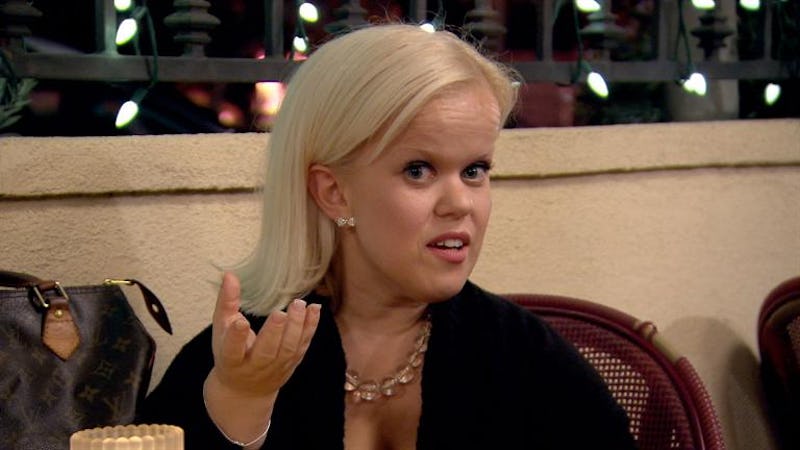 I still don't think I've recovered from last Wednesday night's episode of Little Women: LA . After weeks of tension building between cast members Terra and Christy, it culminated in an explosive fight where Christy's husband Todd and, randomly, Traci's husband Erik came to blows. And it was all thanks to a new face on Little Women: LA, Lila.
OK, so as I mentioned, the drama was already there between these frenemies, and it has been since Season 1 of the show. Lila's appearance on Little Women: LA was just the "Booty Bee" that broke the camel's back. You see, Lila is a double whammy. Not only do you know she's trouble because she's friends with Christy, but she also has a history with Joe. So the fact that a fight broke out when Christy brought Lila unannounced to Tonya's Used Date Party really isn't all that surprising.
Though Lila isn't a full-time Little Women: LA cast member just yet, she will be appearing in Wednesday night's new episode. There's still more drama to be had at Tonya's party, plus the gang decides to do a 5K run together, which looks like it will end in nothing but disaster. Let's just say when you bring someone a skunk costume to wear, you can't be that shocked when she gets pissed, OK Lila?
Lila seems to just provoke conflict, and she doesn't exactly shy away from it. Keep this up, and you may just get to stick around for a little while longer, girl. If that's the case, we all ought to get to know Lila a bit better.
She's Friends With Christy
As I mentioned before, Christy introduced Lila into the group because the two go way back. As friends for more than 18 years, Christy and Lila have gone through good times, such as sharing an affinity for talking dirty, and bad times, including recovering from alcohol abuse. Christy called Lila "a livewire" while describing her personality during last Wednesday's episode, which explains why they get along so well.
She Used To Date Joe
This is why it was such a big deal for Lila to be in the same room as Terra and Joe during last Wednesday night's episode. Lila actually met Joe when she was 13 years old. They were pen pals and comforted each other through their many surgeries. Then things turned romantic for the couple, although Lila really just described having drunk sex with him. Lila always wanted to take their relationship to the next level, but Joe eventually broke it off with her.
However, while Terra and Joe put their relationship on hold, Lila tried to get back with Joe, which didn't actually end up happening. Joe and Terra think Lila is crazy now, with Terra going so far as to call Lila "a ho" whenever she refers to her, which is totally uncalled for and just plain offensive. And Christy and Todd, who always seem to have to butt into everything, think they're making a big deal out of nothing because dating each other's exes in the little people community is very common. Briana and Todd dated once, and she and Christy are still besties.
So in summary, everyone just needs to get over the past and move on. But that probably won't happen.
She's An Outsider
Lila isn't from L.A. like the other ladies. In fact, she's from the opposite end of the country, New York City. She's on the show because she's visiting for a month (and the producers probably enlisted her to bring some fresh blood and drama into the mix this season). But Lila's state of residency matters because it helps to situate her as an outsider among the rest of the group. As you can see, she didn't really need much help in that department, but the higher the tension, the crazier the drama.
She Watched The Show Last Season
One reason why Lila has made such a boisterous entrance into Little Women: LA is because she knows that's what the show is all about from watching it last season. While it doesn't look like she had too much to say about Season 1 on social media, it doesn't really matter, because she's definitely vocal about her thoughts on the other ladies on camera now.
She Has Eclectic Tastes
When she's not wreaking havoc on Little Women: LA, Lila has a lot going on in her life. She's a dog lover and has a chihuahua named Manny. She takes advantage of living in New York by attending a ton of Broadway shows. And she seems to have a little bit of an obsession with singer Har Mar Superstar.
Lila appears to be a lovely person in real life, so why did Little Women: LA have to make her seem so unpleasant on camera?
Images: Lifetime, Zach Dilgard/Lifetime