On 'RHOBH' Lisa R. Calls Kim an "Addict"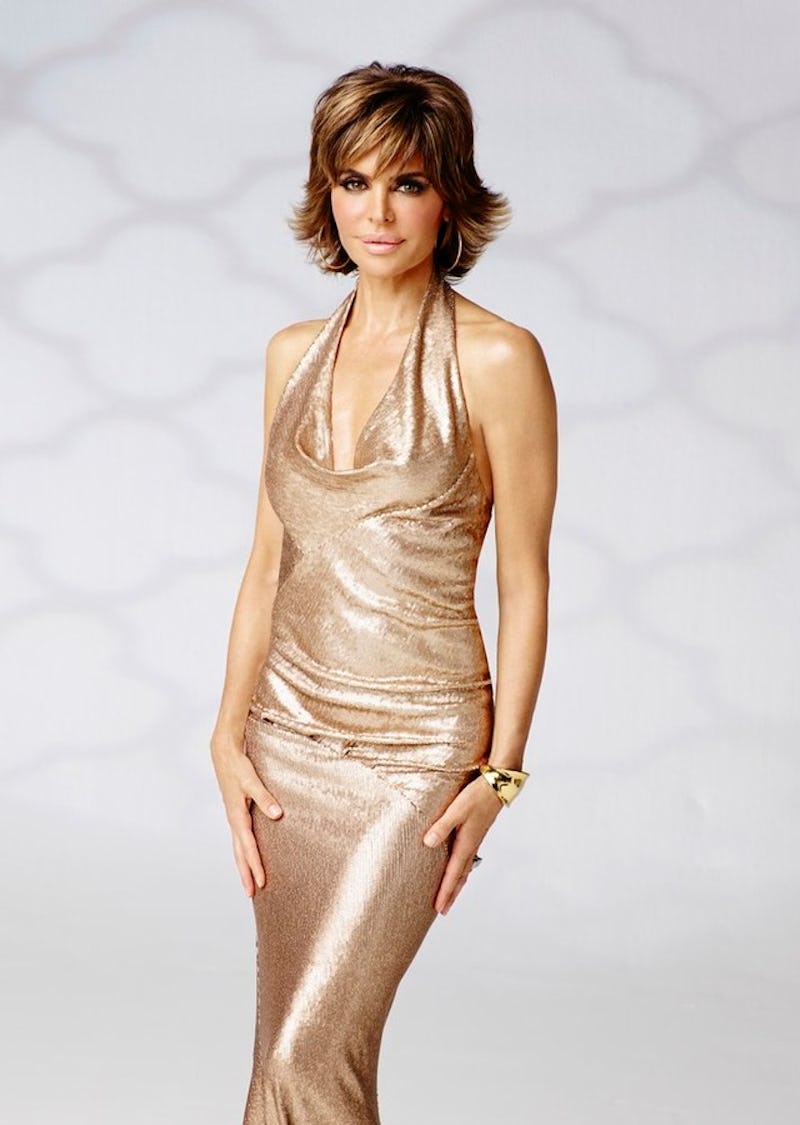 I don't know about you, but I had a major case of deja vu at the beginning of Tuesday night's episode of The Real Housewives of Beverly Hills . That's not only because it was a continuation of last Tuesday night's episode, showing the conclusion of the zero-to-360 fight between Kim and Kyle Richards and Brandi Glanville, but it was also because the fight was basically a repeat of the argument the three had during Eileen Davidson's poker party. The fight was basically more of the same yelling, cursing, and crying, but with one offensive, uncalled for statement. Lisa Rinna called Kim "an addict."
Of course, Kim's struggles with alcohol abuse have been well documented on the show and in the press. Much of Kim's storyline this season has revolved around the return of the same kind of strange, erratic behavior we saw from her during Season 1 before she entered rehab.
But still, it was shocking to hear Lisa just out and out call Kim "an addict" while speaking with Lisa Vanderpump and Eileen Davidson at Kyle's Gay Mixer. At this point in the season, we've gotten to know Lisa enough to realize that she's not afraid to say what's on her mind. She's not quite at the level of offense that Brandi brings, but she does say at least one thing each episode that you can't believe came out of her mouth.
Lisa's honesty is usually one of the things I love about her most. It's refreshing to see someone act really real on reality TV. But this time, she took it too far.
Lisa did reveal that she had seen her husband Harry's brothers die from alcoholism, and I know the reason Lisa called Kim "an addict" is because she's concerned about her health, and truly wants to help Kim. But the fact that she said it behind Kim's back to a couple of her girlfriends didn't seem to be the most productive move. It just came off like gossip. You can't go in with the intention of helping Kim if she's not actually going to get the message.
Although Kim is still acting very odd this season, no one should be jumping to conclusions that it stems from substance abuse. It could be dangerous to make such a huge accusation in such a public forum without actually knowing all of the facts first. It's one thing to throw shade about a catty statement your fellow Housewife made to you, but it's a pretty low blow to bring something like that up when Kim wasn't even there to defend herself.
We all know that Lisa's comment is definitely going to get back to Kim one way or another. They always do on RHOBH. And I'm pretty sure Lisa will continue to feel the need to comment on Kim's current state of sobriety. I just don't think that will work out very well for either Kim or Lisa.
Images: Michael Larsen/Bravo; Giphy