Leslie and Ben Address Feminism in the Best Way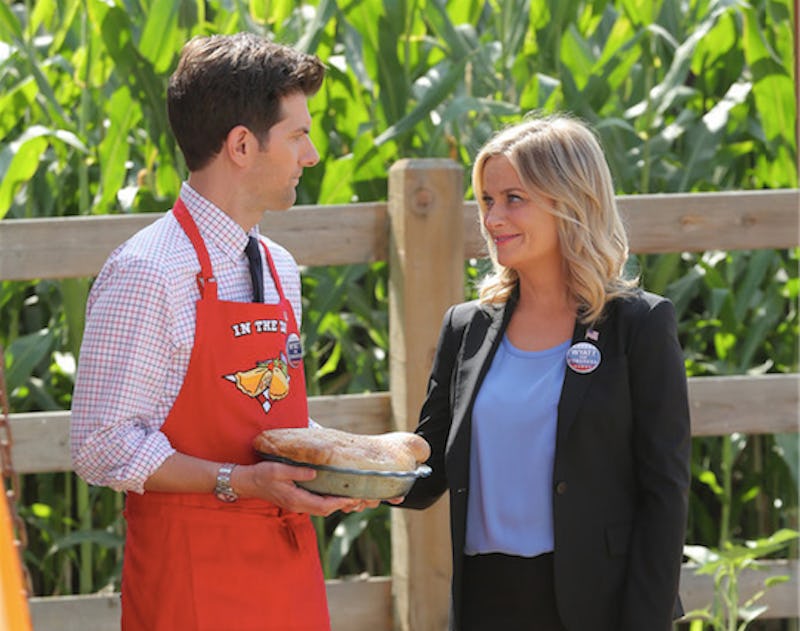 Even though we have seen Leslie Knope be a feminist powerhouse on Parks and Rec for seven seasons, it never hurts to get a little reminder how she is our favorite TV feminist. As a woman who fights sexism in government, Leslie has always rose above Pawnee's antiquated theories about women, and Tuesday's episode was no exception. This time around, Leslie didn't fight misogyny alone, because this time was a fight for gender equality from both Leslie and Ben.
On Tuesday's episode, Ben and Leslie addressed feminism in a really awesome way. During a press conference for Ben's election as a congressman, Leslie was asked why she wasn't participating in the traditional "piemary," which is an event where the candidates' wives bake pies. Leslie immediately called the event antiquated and fought misogynistic reporters against the claims that she isn't supporting her husband by not participating in the event. One woman, who was participating in the event, said, "Miss Knope chose to have it all. I chose my family," which is wrong on so many levels.
After this fiasco, Leslie is visited by a Indiana Organization of Women representative who says that they appreciate that Leslie took a stand against the "piemary" and that if she decides to participate in it, the IOW will be there to protest Ben and Leslie. Feeling trapped in a lose-lose situation, Ben comes up with a genius idea. If the Wyatt/Knope clan needs to have a representative at the "piemary," Ben was going to participate in it, and challenge the outdated gender roles the contest presents. Unfortunately, his idea wasn't received warmly by the men of Pawnee, as at the "piemary" men came to protest Ben's participation, blaming Leslie for forcing him into it.
Eventually, Leslie and Ben stand up for what they believe in, not caring how it is going to affect their political ventures. Ben says that the idea that feminism is an attack on family values is absurd — PREACH. Leslie then spends the press conference answering all the misogynistic questions that she knows the reporters are going to ask, like "Are you trying to have it all?" As Leslie says, it's a stupid question, stop asking it.
What I loved about this episode is that they didn't tip-toe around feminism or gender equality. They also didn't hold back in showing the ugliness of those that are against feminism. The show has proved itself as a feminist force on TV, but this episode really hit the nail on the head with feminist discussions and gender equality messages we need to get out there.
Images: Chris Haston/NBC