Why Leslie Knope is Our Favorite TV Feminist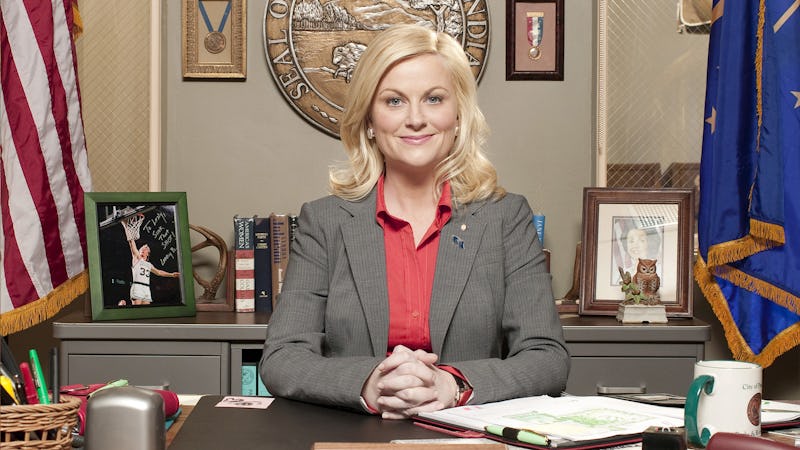 It's a known fact that Parks and Recreation is one of the most underrated shows on TV. The NBC comedy is consistently hilarious and endearingly heartwarming, and yet every year, it teeters on the brink of cancellation. It's constantly ignored by the Emmys and overlooked by viewers, even though its worst episodes are better than most other shows' best. Non-watchers are missing out on the funniest comedy on air, and also one of the boldest; in addition to the witty one-liners and amazing ensemble cast, Parks and Rec features one of the most feminist characters ever on TV: Leslie Knope.
For the uninitiated, Knope (brilliantly played by Amy Poehler) is a likable, enthusiastic, and hugely passionate Pawnee, Indiana city councilwoman. She's a Game of Thrones-loving nerd, obsessed with waffles, and married to the equally lovably awkward Ben Wyatt (Adam Scott). And she's an emblem of feminism.
How so, you ask? Let us count the ways.
She Puts Her Friends First
Leslie may be happily married to Ben, but the strongest relationship on the show is her friendship with Ann (Rashida Jones). Leslie and Ann support each other in everything they do, and never fail to show their deep love and appreciation for each other. Leslie is possibly the world's greatest friend (she even has a calendar of obscure friend anniversaries), and despite her marriage and time-consuming job, her friends always come first. Ann, April and the rest of her gang are very, very lucky.
She Stands By Her Beliefs
Some of Leslie's strongest beliefs (no, waffles aren't a food group) are questionable, but no matter what, she fights for her right to have them.
She Knows the Importance of a Female Mentor
Over the course of Parks and Rec's six seasons, we've gotten to see the relationships between the characters develop. Ron became a father figure to Leslie, April became a begrudging friend to Ann, Jerry became the office joke... well, that one didn't change much. One of the best developments was Leslie becoming a mentor for April, despite April's half-hearted resistance. Leslie's career success and unwavering motivation showed April what a role model should look like, and gave her the confidence to pursue her own dreams. April, of course, hates to acknowledge her admiration of her boss, but every once in awhile, the two women share a sweet, honest moment that proves that Leslie's efforts are not for naught.
She's Passionate About Her Job, But Knows What's More Important
No matter how much Leslie loves her job (and she really loves her job), she knows it's not the most important thing in life. That's waffles, obviously.
She Goes After What She Wants
Leslie has her flaws, but self-confidence is not one of them. When she wants something, she goes after it, and usually, she ends up getting it. Her self-assurance is inspiring.
When She Thinks Things Aren't Fair, She Takes Action
When Leslie discovered that Ron's Pawnee Rangers wouldn't let girls join, she didn't just get mad and walk away. Instead, she took matters into her own hands, creating the Pawnee Goddesses, a feminist group for pre-teen girls. Their pledge? "I am a goddess, a glorious female warrior. Queen of all that I survey. Enemies of fairness and equality, hear my womanly roar. Yeah!" Their motto is even better: "We're freaking awesome!"
She's Her Own Support System
Leslie frequently depends on her friends and her husband for support, but sometimes, she realizes that the person she needs most is herself. She's not afraid to admit this, and gives herself the confidence and courage she needs to do the task at hand.
She's a Huge Believer in Women's Rights
Sums itself up.
She Embraces Her Power
In the town of Pawnee, there are plenty of people who don't like the idea of a strong, powerful woman in a position of authority. It's a good thing Leslie couldn't care less.
And She Doesn't Understand Women Who Don't
Amen.
There are so many other moments we could capture: Leslie running for Councilwoman despite opposition, Leslie promoting safe sex and LGBT equality, Leslie taking on trash duty with April just to prove that women are capable of the same jobs as men. Seriously, every single episode of Parks and Rec is a feminist dream. It's a real shame more people aren't watching, because, thanks to the insanely lovable, complex character of Leslie Knope, the show proves that feminism isn't a dirty word. Thank you, Leslie, for all that you inspire.
Images: NBC