This 18-year-old Hopped Trains For Five Years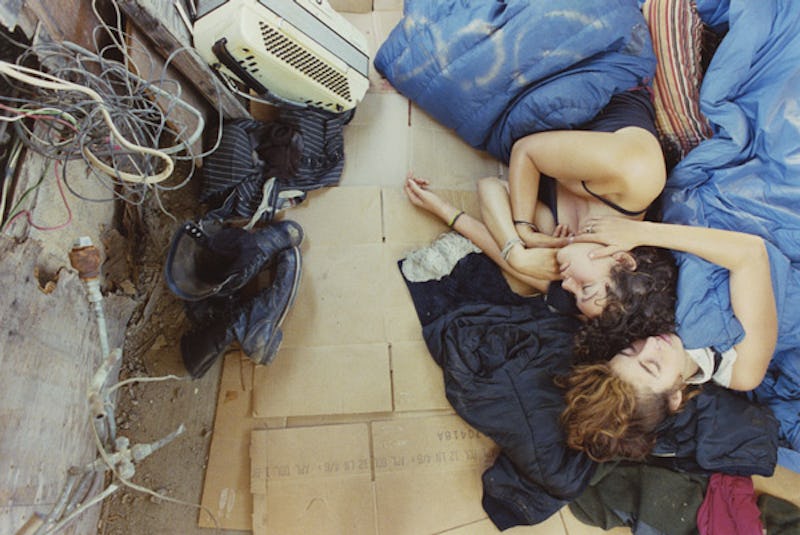 In 2003, at the age of 18, Mike Brodie left his home in Pensacola, Florida, to join the ranks of America's train hoppers. Train hoppers, most of whom are young drifters in their teens or early twenties, travel across the country by rail, "hopping" between freight cars. Brodie rode the rails on and off for five years, covering over 50,000 miles across 46 states and photographing his journey along the way. The photographs, which he originally posted online under the pseudonym "The Polaroid Kidd," are a vivid, fascinating portrait of life lived off the grid. Some — such as those showing scruffy teens leaping between moving freight cars — are harrowing; others are intimate, even sweet, showing the tight communal bonds between those living on the trains.
Brodie's images have garnered significant acclaim from the art world, leading to numerous gallery showings of the self-taught photographer's work, the publication of two books (A Period of Juvenile Prosperity, 2012, and Tones of Dirt and Bone, 2015), and the Baum Award for American Emerging Artists in 2008. In an interview with The Guardian, Brodie discussed the possible dissonance of pairing his photographic account of life as an itinerant with the upscale world of art, saying "I have mixed feelings about the photographs being in an art book and on the walls of art galleries, and so do some of the kids I photographed when they come to the openings. You have a lot of worlds colliding right there."
But despite the great success of his train hopping photographs, Brodie apparently has little ambition to become a career-artist and has left photography behind to find a stable career as a car mechanic. He admits that he still feels the pull of his old life, saying, "So far, I just can't seem to stay put, but I'm trying. I'm still drawn to that old, free lifestyle. … but I'm not a kid any more. I have to move on, settle down." Whatever Brodie's plans for the future are, these evocative images of one of America's little seen subcultures are a fine legacy all on their own.
Image: Imgur