Fan Favorite Finnick Odair Is Back In Action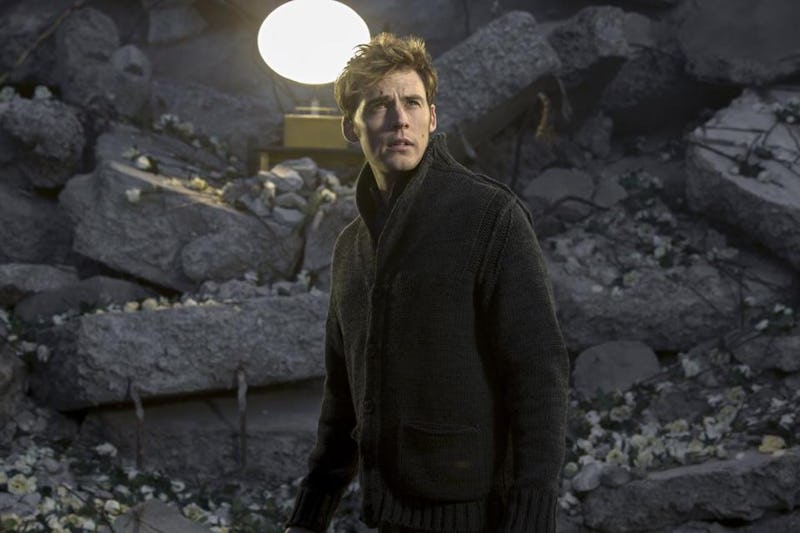 Since November, it seems The Hunger Games fandom has gone into hiding, waiting for the release of the fourth and final installment of the series Mockingjay, Part 2. Well, here's a reason to come out of hibernation, The Hunger Games official Twitter just released a special clip featuring The Capitol's favorite heartthrob Finnick Odair promoting Mockingjay's Digital HD release on Feb 17. That's right. This time next week you'll be able to relive all your favorite parts of the series, including a few scenes that didn't make it into the movie.
In this special promo we see Finnick's message to President Snow (minus the interruption of the rescue mission like in the movie… I'm still a little bitter about that one), the gorgeous Sam Claflin on filming, and one of the first looks of Mockingjay's deleted scenes. And this one is big for all you die-hard Finnick fans… it's the classic Finnick in his underwear scene.
Not gonna lie, I was somewhat disappointed by the lack of Finnick in this movie (I mean, Sam Claflin is ah-may-zing, why cut him out?), so I really hope there are more scenes like this in the release. While we anxiously wait, here are a few fan favorites of Finnick Odair (or better yet, Sam Claflin's best acting moments) to hold us over.
But first, the tweet:
And now, the moments:
Catching Fire
When he offers Katniss a sugar cube
And then he proceeds to eat it seductively in true Finnick Odair fashion.
When he recites a love poem at the Quarter Quell interviews
Everyone thinks the poem is about them, but Finnick is pouring his heart out to his true love, Annie Cresta (swoon!)
When he reveals to Katniss they're allies
"Good things we're allies." Katniss goes to shoot, but pauses when she sees the gold bangle around Finnick's arm.
When he saves Peeta's life
After walking into the force field, Katniss thinks Finnick is trying to kill Peeta, but he actually saves his life with a little mouth to mouth.
When he loses Maggs too soon
Katniss is the mission and Maggs knows she is slowing them down. Finnick is devastated by the loss of his friend and mentor.
When he freaks out over jabberjays
Even though it's not real, Finnick can't help but run towards the sound of Annie's voice mimicked by the jabberjays.
When he stopped Katniss from shooting
Once again, Katniss is ready to shoot Finnick but he reminds her of Haymitch's advice.
Bonus: When he drank water from a spile
Mockingjay, Part 1
When he gave great life advice
Words to live by: "It takes 10 times as long to put yourself back together as it does to fall apart."
When he revealed President Snow's secrets
Not only was Finnick's speech super empowering but it helped The Capitol see the true President Snow.
When he was reunited with Annie
It was like no one else was in the room when these two entangled themselves in each other. This is what true love looks like folks.
Bonus: When he stood in his underwear
Images: The Hunger Games, howdoiputthisgeekily/Tumblr, peetamelalrk/Tumblr, adamscott/Tumblr, itsfinnick/Tumblr, kinginthenorths/Tumblr, finnick-life-ruiner/Tumblr, rosiesdunnes/Tumblr, stop-this-pain/Tumblr, odestaholyship/Tumblr, gabstra/Tumblr