More Tears Are Ahead For 'Grey's' April & Jackson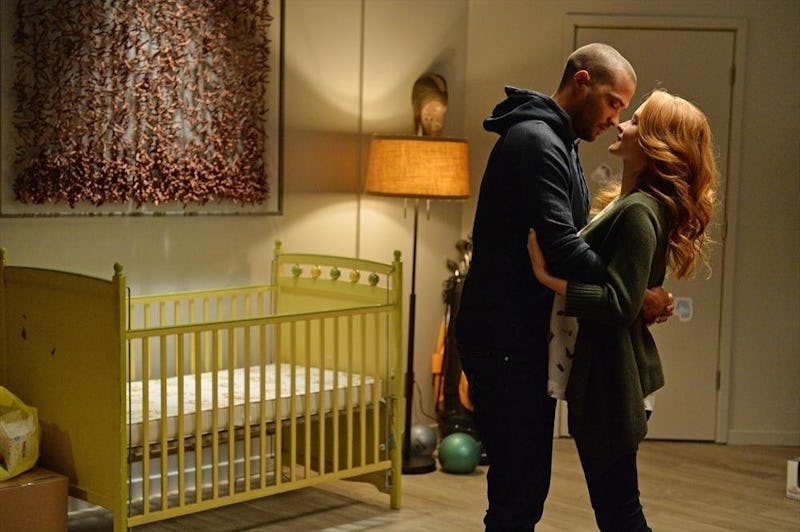 Forget Meredith and Derek's marital issues for a second — the real, actually heartbreaking storyline on Grey's Anatomy right now is that of Jackson, April, and their unborn baby. At the end of last week's episode, their baby was given the diagnosis they feared, and there's an extremely high risk that he'll die shortly after birth. Watching one of my favorite Grey's couples grapple with this scary situation is totally heartbreaking, especially after seeing them so excited to have a child. And April's mom stirring up the drama? I get that she wanted to support her daughter, but her actions in last week's episode were obviously not helping. And in this week's episode, aptly titled "All I Could Do Was Cry," Jackson and April have some decisions to make regarding their unborn child.
Possibly the worst news? The fact that there are absolutely no spoilers anywhere on the Internet that can clue us in to what's going to happen. Unfortunately, we have to glean everything we know from the 20-second promo that aired at the end of last week's episode, which doesn't give me a lot to work with other than the fact that yes, it's going to be another horribly depressing episode.
Though Jackson and April have argued about what they'd do if they did get the Type 2 diagnosis, it seems like they're choosing to continue the pregnancy and let fate do it's thing, meaning that April won their debate. Then, there's the Canadian promo, which is basically trying to rip your heart out and run it over with the same bus that killed George O'Malley.
Forms? Death certificates? Good lord, Geena Davis. You just told this woman that her baby has a likely fatal disorder, and now you're handing her death certificates? I realize it's a fact of life, but where is your tact? This is brutal.
Can we join April in praying for a miracle? This is Grey's Anatomy — anything can happen. In the real world, a lot of patients (and doctors) wouldn't have survived what they miraculously make a comeback from on the show. However, I have a bad feeling Shonda Rhimes & Co. are going for the tears this time in a way they never have before. It even has a hashtag that they used in the last episode, #TearsofGreys. Now that's low.
Dear Grey's Anatomy promo: You are a liar. This is not "why I love Grey's." This is why I hate Grey's and want to bill Rhimes and all the writers for any and/all emotional damages I have suffered in the past 11 years.
Image: Eric McCandless/ABC