Demi Lovato's BF Is Her Devonne By Demi Model!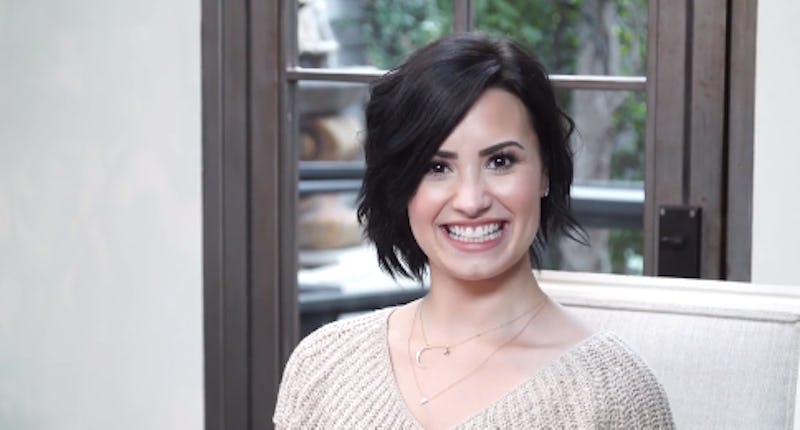 Manscapers and metros, there is absolutely no shame whatsoever in liking or trying all sorts of girly treatments, such as manicures, pedicures, facials, or general skin pampering. Why should ladies have all the fun? Demi Lovato's boyfriend Wilmer Valderrama was her Devonne by Demi guinea pig in the cutest video ever! Lovato, who launched her very own skincare line this year, gave fans a tutorial via a faux infomercial, or "infauxmercial," using her man as her canvas. She was the facialist from hell and pretty much did everything you shouldn't do when trying to get your dude to manscape... but it was all adorable, of course!
Valderrama was a good sport as Lovato literally slapped a glob of moisturizer on face and spritzed him liberally — more like soaked — with the facial mist, all the while maintaining this huge, fixed, and creepy talk show host smile.
With Valentine's Day right around the corner, his-and-her spa treatments don't seem like a bad idea. And I've tried Devonne by Demi and I have been using it every night and lurve it. Ladies, if you want to pamper your dude or show him how to properly care for his skin as a loving gesture, Demi's not-quite-pyscho-but-slightly-unhinged-girlfriend method is not the way to go.
While it was a fun two minutes, here are my recommendations on what you need to do differently if you want to pamper boyfriend or significant other this weekend.
Here are the do's and don'ts!
1. Don't Act Like A Mad Scientist
If you are convincing your rugged or not-normally-metro dude to try a treatment, do not come at him like a mad scientist who smiles way too much, like Lovato did. Approach with caution and with a calm, relaxed voice!
2. Remember This Is All New To Him
He's doing this for you as much as himself... right?!
3. Use A Soft Touch
Be careful when applying product. Lovato was using robust strokes when washing Valderrama's face and you can see the (faux) fear on his face!
4. Don't Blind Him
Lovato went to town with the misting, so much so that her man looked like he just got out of the shower or she was blinding him. Use a light touch. Since this whole process may have taken a bit of convincing to begin with, don't make him regret it!
5. Seriously, Be Liberal With Product
Remember, he's not used to all this goop and gunk on his face, so be liberal with your amounts.
6. Make It A Bonding Experience But Don't Get Maniacal
Whatever you do, don't do this! Remember, it's a bonding experience and you're helping him develop a skincare regimen.
7. Have Fun...
...but not too much fun! You want him to try this again, don't you?
At least Lovato and Valderrama made us giggle, right?
Images: Screenshot/Twitter (8)