9 Times Taylor Swift's Hat Collection Confused Me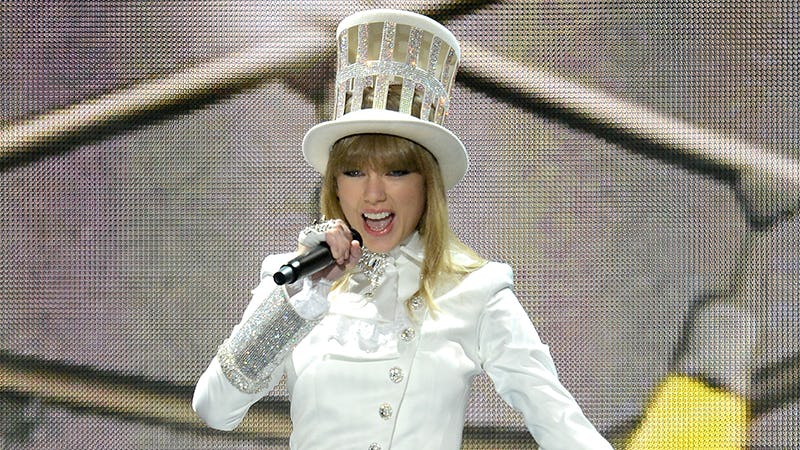 When it comes to fashion, Taylor Swift is usually regarded as one of the famous people that knows what she's doing. There no truly horrific surprises when it comes to her red carpet choices, there are generally a lot of "How To Get Taylor's Look" articles out there on any given day, and she's essentially a fashion icon herself — and one whose best friends are also fashion icons. Style seems pretty easy for Swift. Even as her style of music and wardrobe evolved, she was always wearing something that made me think, "I wonder if I could pull that off..." in a good way. But then, came Taylor Swift's hats.
Oh, the many, many hats. First, there were the hats during performances. And I mean, OK, it's a theatrical event... it makes sense (at least a little) if she's wearing a giant top hat with a feather attached. That's her creative prerogative. Would I do it? Probably not, but that's besides the point. The costume hats were questionable and sometimes a little funny... but then came the street style collection of hats. And I have to say, and as a Taylor Swift fan when it comes to both her music and her style, I truly do NOT understand the hats. Some of them work, but some...some are just confusing. Let me be clear, though: I fully recognize that Taylor Swift has style. I admit and respect the fact that her style has evolved so wonderfully and effortlessly throughout the years. I would gladly steal her wardrobe. But to me, the hats just don't fit. In case you have no idea what I'm raving about, here are nine times Taylor Swift's hat collection left me completely befuddled.
1. Is this what you wear when you ride horses?
I've never even seen one of these hats for sale anywhere, so I'm not sure if I'm just way behind on trends here or she actually just went into a super fancy English barn and stole one. The rest of the outfit is quite chic, but the hat just throws me off entirely. I should mention that perhaps I"m missing the bigger picture here and she actually was riding horses this day. You never know.
2. The Bowler Hat
I'll be honest — I'm kinda torn with this one. My first thought is that it looks ridiculous, but then the more I stare the more convinced I am that it's somehow chic. I'm just not sure how I feel about it.
3. This Red Hat
Clearly, some people are a fan of this look. Me? I would be if she was about 50 years older. The swimsuit? Cute. The hat? No. Just say no.
4. This Moment
OK, you guys knew I was going to bring this up, right?
5. It's Probably Not Fair Of Me To Let This Resurface, But....
And she was still a MUCH cooler teenager than I was, by the way.
6. Also, This Happened
Again, probably not fair to bring up past fashion choices, but I couldn't resist.
7. Beanies, They've Always Been Cool
Always.
8. She LOVES Bowler Hats
While I don't think the bowler hats are the greatest thing in the world, she CERTAINLY knows she loves them. And I guess that's all that matters, right? Also: How do they stay on her head? Bobby pins? Tape? Good posture? Magic?
9. Let's Just End With This, Shall We?
This seems like a good place to end, right? I think it sums it all up. And the moral of this story? Taylor Swift is fabulous and she can wear whatever she wants, and still (for the most part) look totally chic. It's impressive really. Alternate title for this piece? Bowler Hats: It's A Way Of Life.
Image: Getty Images