YA Literature is Getting More Progressive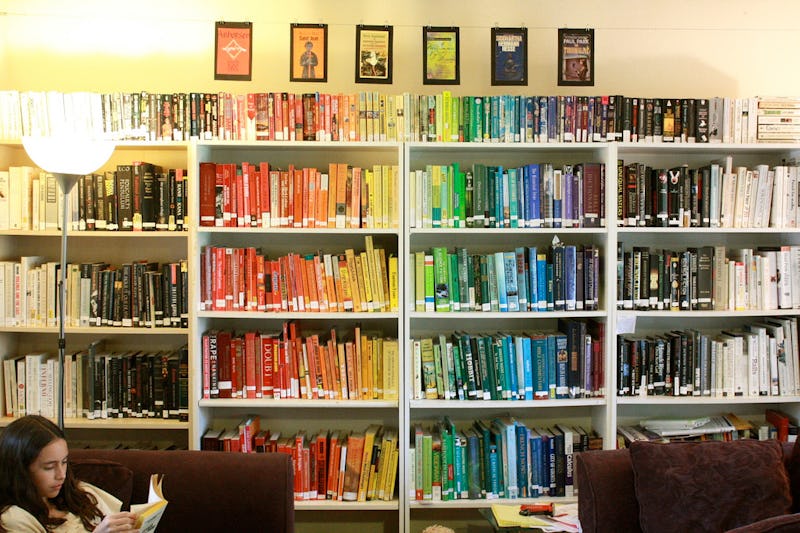 If you're still stoked (as I am) that such a deserving and LGBTQ-friendly novel, Jandy Nelson's I'll Give You The Sun, took home this year's Michael L. Printz Award for Excellence in Young Adult Literature, you're going to want to get a look at The Rainbow Project's 2015 Rainbow List. Not only are there so many high quality young adult and children's books centered on the LGBTQ experience and voice, but the list shows an increase in authentic trans voices. This is good news in the quest to have people of all walks of life, backgrounds, and orientations reflected and validated on the pages of books, especially those directed at young adults.
The Rainbow Project is a collaboration between the ALA Gay, Lesbian, Bisexual, and Transgender Round Table (GLBTRT) and Social Responsibilities Round Table (SSRT). Every year, the partnership releases a list of books with significant gay, lesbian, bisexual, or transgender content whose audience is anyone under the age of 18. The book doesn't have to be released by a big 5 publisher, as The Rainbow Project looks thoroughly through titles released by indie and small presses as well as major publishing houses. For the 2015 Rainbow List, the group looked at 140 titles and chose 24 to make the cut, starring those that made it into the top 10. Focusing on the young adult lit side, there are 11 fiction books on the list, six nonfiction, and two graphic novels.
And boy, there are some super exciting names on that list. Yes, Nelson is included for I'll Give You The Sun, of course.
But Nelson isn't the only award darling on the list; Andrew Smith also shows up with his totally wacky and totally awesome Grasshopper Jungle, which was a Printz Honor Book for 2015. And, by the way, it just came out in paperback. You know, if you happen to be at your favorite local bookshop.
Two books that may not have gotten as many headlines as Smith or Nelson are also standouts on the list are Sara Farizan's Tell Me Again How a Crush Should Feel and Julia Watts' Secret City. The former tells a story of what it's like to come out when your heritage considers it wrong. Leila knows that her Persian heritage will make it even more difficult to show her true feelings for the new girl Saskia.
Secret City is a historical story, taking place against the backdrop of World War II set in a poor community in the Appalachian Mountains. Young Ruby is a thirsty reader, devouring as much as she can about the world. But then she meets a young mother and realizes that she is developing feelings for the woman who shares her intellectual curiosity.
According to The Rainbow Project, "Among the 150 books evaluated by the committee, committee members noted an increase in the number of titles featuring authentic trans voices." One of those books is in the nonfiction YA category, Susan Kuklin's groundbreaking Beyond Magenta: Transgender Teens Speak Out, which already took home the 2015 Stonewall Book Award.
The book is exactly what it sounds like: six transgender teens spoke candidly to the author about their physical and emotional journey. It shows that you can't put trans teens, like any group of people, into a box. Everyone is different, with their own stories, their own struggles, and their own points of view.
Kuklin's book sits aside Katie Rain Hill's incredible memoir Rethinking Normal: A Memoir in Transition, where she opens up not just about her gender reassignment, but her life as a whole, including her struggle with depression.
And then there's Arin Andrews' Some Assembly Required: The Not-So-Secret Life of a Transgender Teen, the hilarious and yet incredibly poignant story of Andrews' gender reassignment during her high school years.
What may be most exciting for those of us hoping for the proliferation of books that give voice to the trans experience is that children's picture book I Am Jazz, based on the real life of Jazz Jennings, exists at all, and it is included on The Rainbow List.
Though there aren't any fictional YA novels that center on a trans voice, we can still take these intimate nonfiction stories as a step forward for bringing the trans experience to light. In a world where there is still huge discrimination and misunderstanding against anyone in the LGBTQ community, particularly those that identify as trans, it's crucial to bring these stories to the page and to celebrate them when they are done well.
We know how powerful books can be. Seeing not only ourselves reflected on the page (as everyone should have the opportunity to do) but seeing others of non-majority groups can help increase understanding and even empathy. That empathy for characters in books, as the We Need Diverse Books organization is quick to point out, will ultimately translate to empathy for people in the real world. With empathy comes acceptance and equality. And we all know the world could use a whole lot more acceptance and equality.
Image: mind on fire/Flickr