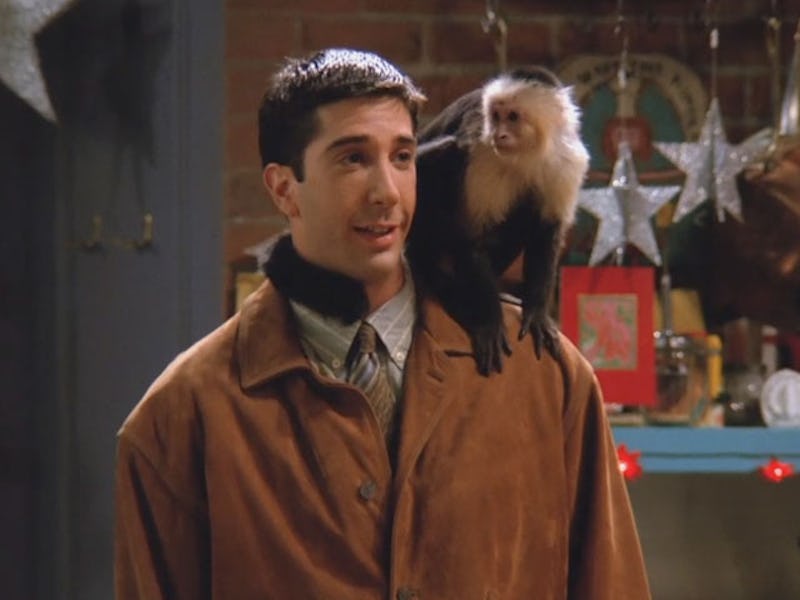 Any true Friends fans knows that in the beginning, the show's central cast wasn't just six people — it was seven. In the early years, Marcel the Monkey was a fixture in many of the episodes, usually because he was busy humping things or pooping in Monica's shoes. And even though it was the worst idea ever to keep a monkey in an apartment, Ross loved him, and eventually, he grew up to star on film, just like his real life counterpart. And speaking of his real life counterpart? Yeah, that monkey is still kicking and still acting. Just this week, he was spotted in a photo shoot Kendall Jenner did for Allure, which got me thinking: Wait, how old is Marcel? Because the fact that he's still around must mean he's getting up there.
According to The New York Post, who talked to the owner of Bob Dunn's Animal Services (the pet agency that rents the monkey out for events and TV and movie stuff) in 2014, Marcel — who is actually a girl! — is in her early to mid-20s, and so is Katie, the monkey who occasionally stood in for her on a few episodes. Marcel's real name is Monkey, which describes her pretty well, and she's doing fine. I mean, obviously, since she's hanging out with Kendall Jenner. Both monkeys are still working and are healthy and happy. God, I love a happy ending.
There's no precise age for Monkey available, but we can estimate, right? Marcel first appeared on Friends in "The One With The Monkey," which aired in 1994. Assuming Marcel was at least one year old at that time, she'd be at least 21 now — old enough to drink! It seems surprising that an exotic animal would have that kind of lifespan, but Capuchin monkeys in captivity can live to be around 50 years old. Impressive, right?
My next question is this: does the real Marcel still require "The Lion Sleeps Tonight" as a lullaby?
If there's ever a Friends reunion — and I know Jennifer Aniston has said there will not be one many, many times — I certainly hope they decide to include the monkey who made Ross that much more endearing in the earliest seasons of my favorite show. After all, who can forget the fear they felt in their hearts when they watched the episode where Marcel swallowed the Scrabble pieces for the first time?
Image: NBC