Obama's BuzzFeed Video Will Make Your Day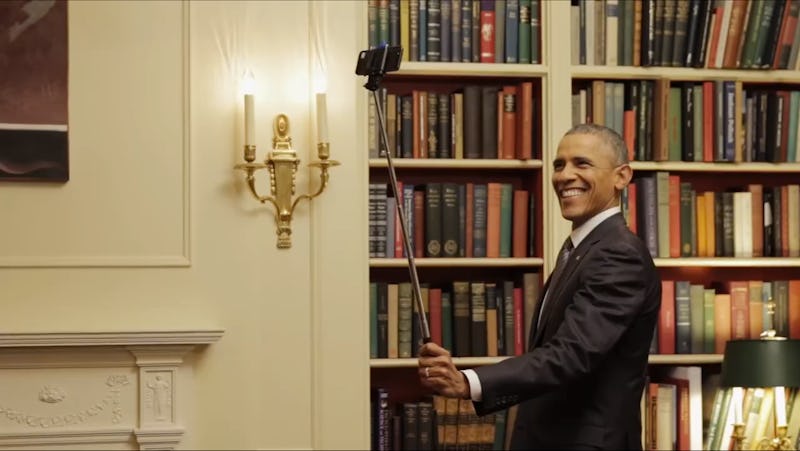 In his ongoing attempts at promoting Obamacare to millennials, President Obama made a BuzzFeed video, obviously titled "Things Everybody Does But Doesn't Talk About" — and it's pretty accurate. Among other things, the President checked himself out in the mirror (guilty), made funny faces (guilty), pretended to be a spy (complete with Vice President Joe Biden's sunglasses and a finger gun), sketched a picture of Michelle, his crush/wife, tried to dunk a cookie in milk, and, uh, took multiple selfies with the ever-dreaded selfie stick (et tu, Obama?).
How did BuzzFeed manage this monumental feat, you ask? Though the President gamely makes fun of himself in the video, its intention is to prompt the younger generation to sign up for Obamacare before the deadline — and personally, I think it works. Featuring Obama in a rather presidential-looking room, he repeated to himself in the mirror at one point the Feb. 15 deadline to sign up for the Affordable Care Act — though he seemed to have some trouble with the word "February," like the rest of us mortals do sometimes. He said:
The deadline for signing up for health insurance is Feb. 15. In many cases you can get health insurance for less than $100 a month. Just go to healthcare.gov to figure out how to sign up.
In the video, struggling to fit an oversized cookie into a thin glass of milk, the President sighed and self-deprecatingly remarked, "Thanks, Obama," in a marvelous poke at the trope that has been so widely used now that it has transcended sarcasm and become a fit-for-all-occasions slang. Your car broke down? Thanks, Obama. Won the lottery? Thanks, Obama!
No stranger to the power of the Internet, his 2008 presidential bid marked the changing face of election campaigns of the 21st century. Social media was a big part of Obama's brand-building efforts to reach out to the younger generation, and many credited his team's social networking in part to his making history as the first black American President.
Towards the end of the video, the President gets caught red-handed throwing imaginary three-pointers by a bewildered aide, to whom he threw up his hands and responded:
Can I live?
Seriously — Coolest. President. Ever.
Images: BuzzFeed