Is 'The Bachelor' Mural Still There?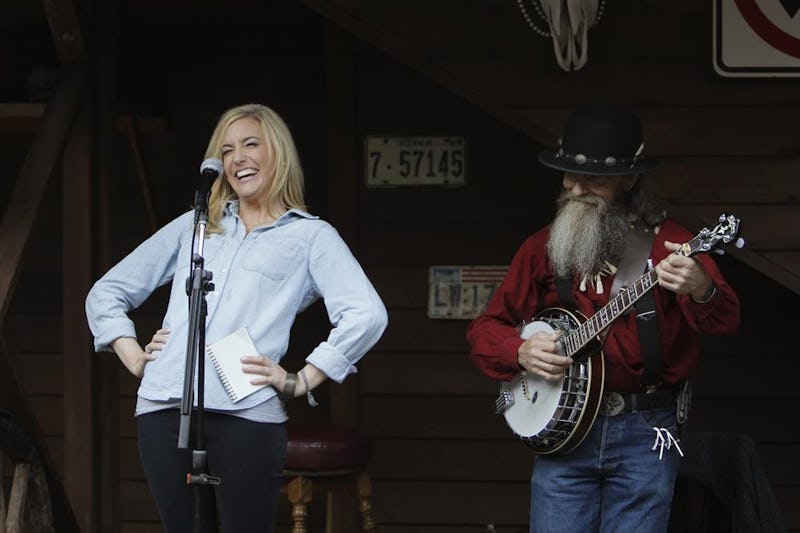 The Bachelor, Chris Soules, is bringing the few women remaining from Los Angeles, where the rest of the season is filmed, to his home state in the Midwest, where he'll be sweeping his dates off their feet with the wonders of Iowa. Since so many things on reality shows turn out to be fake, color me surprised that The Bachelor mural with Whitney & Chris from their romantic date night is still standing in Des Moines.
I guess a date night mural is pretty cool, perfect for anyone who's ever felt like a simple date night selfie just wasn't enough. And while Des Moines may sound pretty quiet, it's certainly more populated than the surrounding area. There's not a ton to do in Chris' actual hometown of Arlington... which the ladies discovered is something of a one-horse town. If not a no-horse, no car, not much of anything going on town, which isn't the best place to get into reality TV ready hijinks. I mean, there's not many other reasons why Hollywood comes to town.
With some slight exceptions, the city of Des Moines has started to embrace their newfound national fame, and the painter, Van Holmgren, a local Des Moines artist, gave an interview to The Des Moines Register about the experience. His biggest hope? That it gives people a different impression of his hometown.
I honestly just hope they look at Iowans and Des Moines in a different light. I want people to be aware of art in Des Moines.
OK, but what does this mural even look like? The Des Moines Register 's picture shows the full image: it's a brightly colored series of stripes, jaggedly outlined in abstract shapes. In the center, there's Chris and Whitney, in black & white. Holmgren successfully captured Chris' cartoon superhero features. An enterprising Pintrest-er, Victoria M., also captured the image. But the best version comes via RoCA, the restaurant whose wall this mural is currently gracing.
Reality Steve, whose entire existence is designed to foil the cannily edited ABC promos, showed up to the site of the mural, along with a whole group of excited local fans, to film the reveal. Since there aren't thousands of Whitneyv& Chris mural pics flooding Instagram, something tells me that ABC had some kind of gag order on the image. But Reality Steve's video does give us some clues about how the date will go down.
First, Whitney and Chris will be going to a restaurant next door. When they exit, it looks like she's pretty charmed, because they get a kiss outside on the sidewalk (I'm assuming ABC will edit out the screaming fans).
Then, they walk over to the mural, and we see the corners of the brightly colored borders amidst more screaming cheers, when suddenly the audience around Steve goes "aww!" I'm assuming Whitney's reaction was positive. Looks like the mural date is a rousing success... maybe there's enough in Iowa to keep these girls interested after all.
Image: Robert Carlson/ABC