Sorry, But There's No Way Kaitlyn Wins 'The Bach'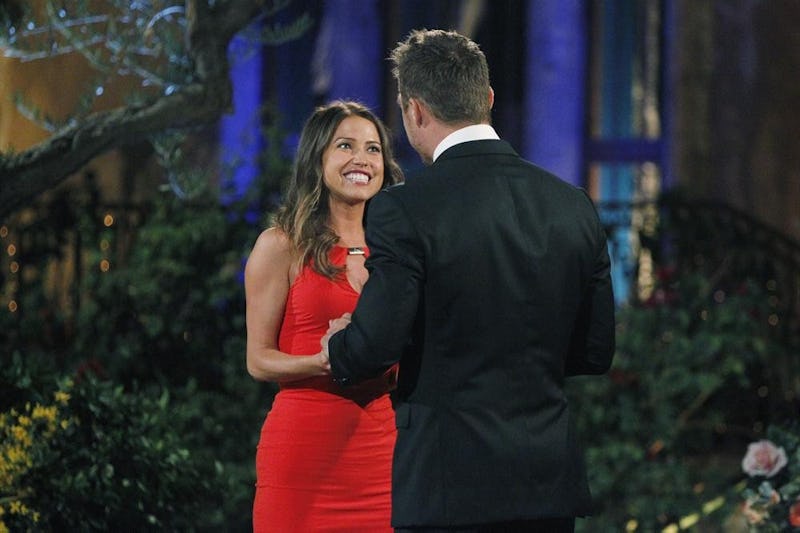 Using her wit and charm, Kaitlyn Bristowe has gotten pretty damn far on The Bachelor . She was the perfect date to bring along to Costco when Jimmy Kimmel was in town. She also raps, tells jokes, and dances around without a care in the world, which is awesome when the guy you're trying to date is also goofy, fun and spontaneous, but that's not really the way our farming Bachelor Chris Soules lives his life. In my bachelor bracket, I have Chris sending Kaitlyn home during hometown dates and it's not because I don't like her, but because I think she can do better than Chris.
My top two facing off in the proposal are Becca and Whitney. Both of them are shy and serious and seemingly ready to begin a family as soon as Chris gets down on one knee, but I just don't see Kaitlyn fitting into the life plan that he's been fairly open about wanting like the other two girls.
The remaining six women are heading to Arlington on the special Sunday night episode of The Bachelor and will get a dose of reality about what their lives would really be like living in a tiny little Iowa town. I consider this episode to be the ultimate test of who is going to become Mrs. Chris Soules.
She's Too Fun
Chris is pretty damn boring. I hate to say it, but I just haven't felt like he has contributed anything meaningful to any conversation this season. Kaitlyn is fun and loud and seems like the type of person who would go to Europe tomorrow because why not. Chris is way more mellow than her and more serious all the time. Kaitlyn needs a goofball.
…And She's Too Funny
Let's be honest: Chris could not keep up with her sarcastic wit and people who are that witty need someone who can dish it right back. While he may laugh at her humor, he's definitely not on her level. Just sayin'.
She Wants a Different Future
Whereas some of the other girls have brought up wanting kids and starting their family, most of Chris and Kaitlyn's conversations thus far haven't been too deep into a future and what they see for themselves. That's possibly because they aren't looking for the same things, but don't want to admit it to each other.
There's No Dance Studio In Arlington
Kaitlyn is a dance instructor so I decided to look around Arlington on Google maps to see where she could possibly teach dance. When you type in dance studio Arlington on the finder, the local high school pops up. Maybe she could teach dance at Chris' high school, but I'm guessing she won't have the equipment necessary there to teach all different types of dance to the students. I don't see Kaitlyn being okay with moving to a place that doesn't have a clear place for her to dance and perform.
Images: Rick Rowell/ABC