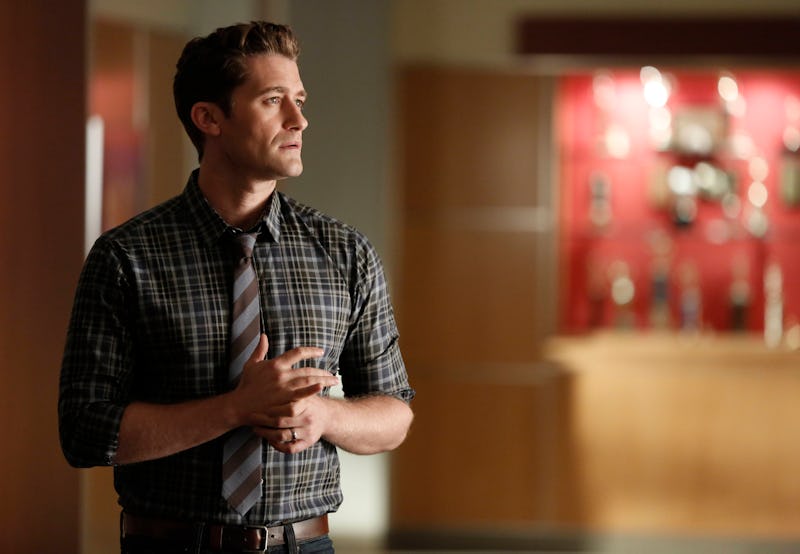 Finally the Will Schuester that I (and a few others) know and love is back on Glee! To be completely honest, I haven't really been as keen on Will Schuester since Season 1, where he was a dorky, lovable and good-looking glee club teacher. Since then, we've seen too much ridiculous drama, too much intensity and closeness with his students, and way too much rapping. But now Will Schuester is a family man, happily married and making way too much money coaching Vocal Adrenaline. Here's the problem: His students are horrible demons. The classic Will Schuester way of teaching and coaching really doesn't work well with Clint and the rest of the Vocal Adrenaline team members, and they're not afraid to show him how they feel about him. Seriously they insult the crap out of him and literally everyone else, especially anyone who is trying to cost them a championship. But after weeks of insults and general misbehavior, Vocal Adrenaline's obnoxious/evilness finally gets to Will and he stands up for himself. In fact, Will even quits his job coaching the devil team.
If you think I'm overreacting about the nastiness of VA, here's an example of how terrible they really are: In order to sabotage the New Directions, they trash Coach Beiste's car and write "Coach Tranny" on it to get the New Directions to focus on stopping sectionals practice and spend time helping their friend.
And on top of that, when Will tries to teach VA about tolerance for the other schools' glee clubs by rapping "Same Love" by Macklemore with Unique singing Mary Lambert's part, Clint insults Schuester from his vests overuse to his kumbaya teaching technique. At this point, Clint has hit Will's last nerve and finally kicks him out of Vocal Adrenaline team despite Clint's insistence that he is the team.
Will talks to Emma — who appears in this episode despite having a body double last week — about hating his job but being confused about sticking to his morals and quitting or staying in the job for the money to take care of his family. But Emma, being way better than Tami and the perfect companion to Will, tells her husband that sticking to his morals is what their child would want to see in their father.
Despite Will rapping in Friday's episode and generally being too morally pure and cheesy, his reasoning for being high and mighty over Vocal Adrenaline is justified and truly represents why Will was such a good coach at New Directions. He wants to be able to love his kids, love his job and help his kids love the arts as much as him. After quitting his job, Rachel and Kurt ask Will to take on the unpaid job of alumni New Directions consultant so that he can get back to the work he loves.
At this point with only 5 episodes left in this sixth and final season on Glee, it seems likely that Will gets his job at McKinley back once Rachel helps reinstate the glee club for good. This would make a lot of sense, especially if Rachel gets the new role on Broadway she auditioned for last week, and if Kurt and Blaine get back together and move back to New York after Kurt finishes his work study.
What would be even more interesting is if Will could still find a way to get through to the idiots at Vocal Adrenaline to not be so evil about their ruthlessness in winning. Clint says winning is all that matters in this world, but what he didn't realize is that the way Will was teaching leads to real winning. Real winning is loving what you do and sticking to your morals. In the end, it's not that Will wasn't good enough or right enough for Vocal Adrenaline. Vocal Adrenaline just wasn't good enough for Will.
Images: Tyler Golden/FOX; dimpledchris, flawlessbilson, sothinky/Tumblr