Mass Shooting Plot Foiled In Canada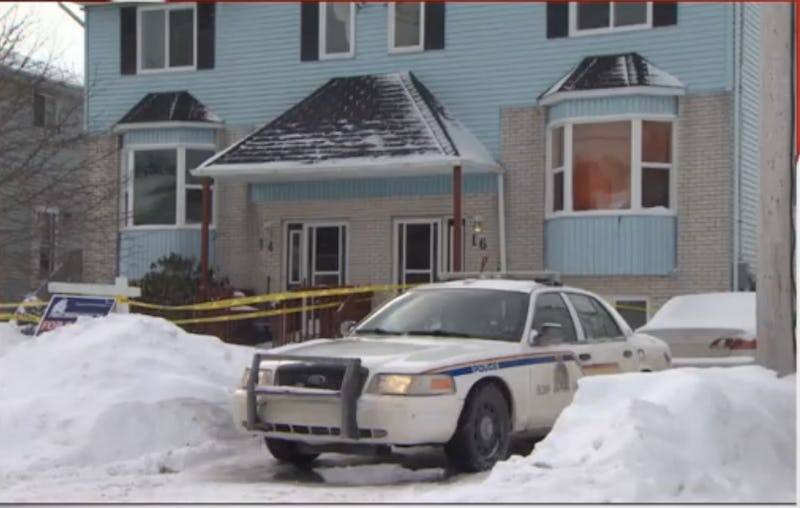 After receiving a tip, authorities in Canada foiled a mass shooting plot that could have potentially claimed the lives of numerous people on Valentine's Day. According to the CBC, one suspect was found dead in a house in Timberlea, Nova Scotia early Friday morning. Three other suspects were taken into custody on Friday.
Two of the suspects — a 19-year-old man and 23-year-old woman — arrested are American citizens from Illinois, Halifax police told reporters on Saturday. The 19-year-old suspect was reportedly found dead in a home in Timberlea, just 20 minutes outside Halifax. Authorities said the 23-year-old American woman was arrested at the airport around 2 a.m. Friday morning, where she confessed to the plot.
Two other suspects were also arrested: a 20-year-old and a 17-year-old. According to the Associated Press, the 17-year-old male was wanted for making threats about shooting up a high school, but investigators are still working to piece together his role in the alleged Valentine's Day plot.
Nova Scotia police said the 19-year-old and 23-year-old suspects were planning to stage a mass shooting at an unidentified public space before committing suicide. The AP identified the target site as a nearby shopping mall. Authorities were tipped off about the plan through the the Crime Stoppers tip line, which is open to the public.
The Nova Scotia Royal Canadian Mountain Police said in statement released on Facebook that the initial tip about a "potential significant weapons-related threat" came on Thursday. "We want people to know we became aware, we acted quickly and intercepted a threat," the Nova Scotia RCMP said.
The Nova Scotia RCMP continued:
Information suggested that a 19-year-old Timberlea male and a 23-year old Geneva, Illinois female had access to firearms and it was their intention to go to a public venue in the Halifax region on February 14th with a goal of opening fire to kill citizens, and then themselves.
The authorities also released a series of tweets Thursday night, as a special team investigated the tip, which led them to a house in Timberlea.
The Nova Scotia RCMP said they believe all suspects have been arrested, and they are seeking any further suspects at the moment. "As always we are asking the public to remain vigilant about anything suspicious they may see or hear in their physical or online communities and to not hesitate to report anything to police," the Nova Scotia police added.
According to The National Post, Justice Minister Peter MacKay doesn't believe the planned shooting massacre was "culturally motivated" or a terrorist plot. However, authorities are still determining the motive. MacKay told reporters at a press conference on Saturday that this massacre plot was the work of "murderous misfits" that wanted to "wreak havoc and mayhem" on the Nova Scotia community.
"Make no mistake about it, there could have been a real tragedy and it would have marked our city and our province for ever," MacKay said.
Nova Scotia Premier Stephen McNeill released a brief statement Friday night, thanking the authorities for their quick work:
Earlier this evening, Feb. 13, the RCMP, along with the Halifax Regional Police, provided an update regarding a weapons related threat in the Halifax area.On behalf of all Nova Scotians, I thank our police officials, here and in the United States, for their quick and professional work. We are grateful for their dedication and vigilance.
Image: screenshot/CBC News