Happy Valentine's Day, Tom Hiddleston Fans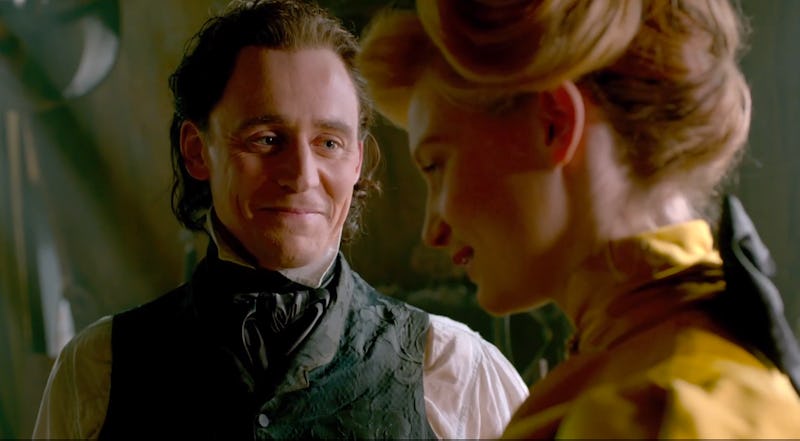 ICYMI, the first trailer for Tom Hiddleston's new film, Crimson Peak , is here and it is tantalizingly scary. Guillermo Del Toro's gothic horror story, which stars Mia Wasikowska, Jessica Chastain, and Charlie Hunnam — all alongside Hiddleston, of course — promises to be both petrifying and provocative. Crimson Peak tells the tale of Thomas Sharpe (Tom Hiddleston), an upstanding English gentleman who woos a young writer, Edith Cushing (Mia Wasikowska), and whisks his (barely) blushing bride off to his creepy childhood home named — you guessed it — Crimson Peak.
Though the trailer gives us none of this information, what it does gives us is copious amounts of Hiddleston-time. I must admit, I have never considered myself a Hiddlestoner — however, after seeing the Crimson Peak trailer, I can honestly say that the creepy-sexy character of his, Thomas Sharpe, has officially drafted me to play for Team Hiddleston.
So, as a Valentine's Day treat for all you ladies out there (because what better way to spend Valentine's Day is there than to stare at Hiddleston all day?), I give you the top 8 Hiddleston moments from the Crimson Peak trailer. Cause who needs a boyfriend when you've got hot new photos of a hot imaginary character played by a hot actor that you will never meet, amirite?
"Would you be mine...? 'Til death do us part... death... so much death."
A tall, dark, and mysterious shoulder to cry on
"Welcome to my childhood home which is totally not creepy and definitely not filled with the undead."
"I'm gonna be shirtless... a lot."
Dat Emotionally Damaged Sibling Bond
Edith Gets Hiddlestone-boned (while Sister Sharpe watches?)
"Ghosts that watch us have sex are real... this much I know."
[Smoldering Intensifies]
Images: YouTube (9)