Hiddleston Is Shirtless In 'Crimson Peak' Trailer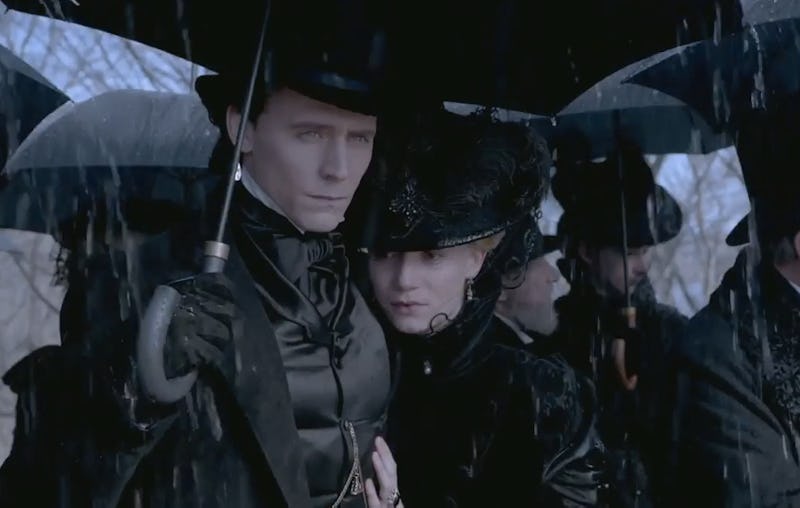 The wait is finally over, Hiddlestoners: Tom Hiddleston's Crimson Peak trailer is finally here, and it's the perfect mix of tantalizing and terrifying. We still have to wait until October 2015 for the Guillermo del Toro film to be released, but based on the first footage, it will be well worth the wait. As promised, Hiddleston's shirtless sex scenes — yes, their multiple — with co-star Mia Wasikowska are front and center, showing him trailing kisses down her body and ravishing her. The creepy downside? Jessica Chastain's character, Lucille, is seen watching them at least once. You can try to forget that by watching their sweet meet-cute over and over — "Will you be mine?" Hiddleston's character, Thomas, asks his future wife Edith (Wasikowska) as he takes her hand at a ball — but it won't wash away the scary figures crawling through the haunted house.
"There are parts of the house that are unsafe," Lucille warns Edith. "In your own best interest, proceed with caution," Edith's childhood love, Alan (Charlie Hunnam) also warns. But does she listen? No, not right away, and by the time she does question it all, it's too late. "Has anyone died in this house? Specific deaths, violent deaths?" Edith asks Thomas before screaming about having to leave in a later scene. "There's nowhere you can go. This is your home now," Edith concludes. Dun, dun, dun. Considering the synopsis says "this is a house that breathes, bleeds... and remembers," I have a feeling she won't escape alive, but we'll have to wait many months to find out for sure. Check out the full gothic, perfect trailer below.
Image: YouTube