20 Date Ideas Under $40 So Romance Can Happen On Any Budget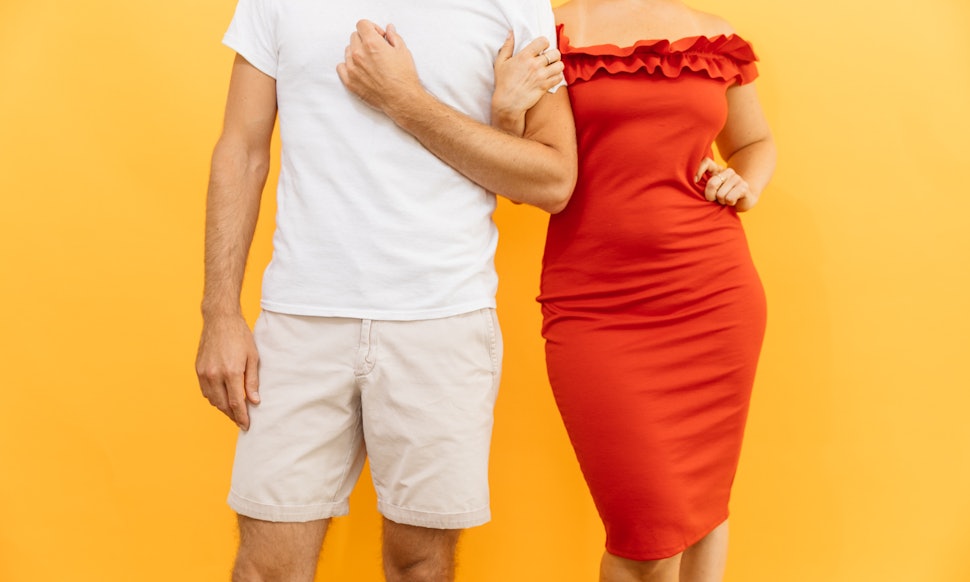 Dating doesn't always have to burn a hole in your pocket. There are ways of spending quality time together without having to spend hundreds of dollars. Below are twenty different date ideas that will make your heart and your wallet happy.
Image: Ashley Batz/Bustle
Picnic In The Park
With this date, you can put all of your eggs in one basket. Get some picnic food essentials and a blanket and you've got yourself one fine, inexpensive date.
At Home Movie Night
Sometimes you don't want to watch a movie in a big dark room with other strangers. Bring the theater to your home, at a cheaper price. Pick up some candy at the grocery store and get corny and pop some popcorn.
Bike Ride At The Beach
Rent some bikes down by the beach and you've got yourself a cute and inexpensive date. You burn some calories as your love for each other burns bright. Add in a sunset, and this date just became golden.
Wine Tasting
Get the taste for love and adventure with a wine tasting date. Who can turn down a nice glass of wine? I'm sure your date can't.
Hiking
They say to really know a person, you should walk a mile in their shoes. Well, I say to really know your date, you should walk a mile with your own shoes on together. Take your love hiking and pack some food for a lovely meal at the top with a view.
Hot Tub & Bubbly
Warm up your date with some hot tub action. Getting steamy in a jacuzzi doesn't cost anything. Buy you and your date some bubbly to go with the bubbles. Hello romance.
Romantic Spa Night At Home
Going to a spa can be very expensive, so why not take the spa to your place. Set up some candles, put on some mood music and give each other massages. I'm sure there will be a happy ending to this date.
Cook Together
Find your inner Emeril Lagasse and cook with your significant other. You don't need to go out to dinner to have an incredible meal. Spice it up in your own kitchen and "BAM!" you've got yourself a hot date.
Image: Fotolia
Get Artsy
Plan an art night for the two of you. Go to a shop where you and your date can paint, or make some pottery together. You can sign up for an art class. Be Vincent van Gogh for a day. But maybe skip the whole cutting off your ear part.
Image: Fotolia
Museum Date
You know what is a fun date and isn't expensive? Going to see a museum together. Gain some art knowledge and have a good time, what more could you ask for?
Go Coupon Crazy
Scour Groupon, Living Social and TravelZoo for some great discounts. Find something that you wouldn't normally be able to do, but now you can for a better bargain. Pro tip: don't use a coupon for a first date, as it can come off tacky.
Image: Fotolia
Happy Hour
Happy hour. Heard of it? It's just my most favorite time of day. Instead of going out for drinks and appetizers, which can normally rack up the bill quickly - go out for happy hour. Going out for margaritas at the right time can make all the difference.
Image: Fotolia
Bowling
Go bowling and have a ball together. Bowling a couple games can for sure be done under $40. Get your game on with each other.
Pizza For Two
This year is all about the pizza. Pizza is having a moment, so why not incorporate it into an inexpensive date? You can either make a pizza just the two of you, or go out for a bite of the best pizza in town. Be adventurous and try a new kind of pizza, with different toppings.
Game Night
You don't need to have great game to have a great game night with your date. Put your competitive spirit on and the game boards out, and have a blast.
Beer Tasting At Home
BYOB date night. Instead of going out and beer tasting, how about you bring the beer home? Go out and buy some cool craft beers and have your own tasting, just you two.
Miniature Golf
Get your golf on with your lover, miniature style. Instead of playing around with your date, play a round of golf. This day date will sure to be a hole in one.
Pool Day
Soak up the sun and the water with a pool day. This daytime date isn't expensive and it makes quite the splash. Just turn up some tunes, bust out the tropical drinks and lay out by the pool.
Image: Fotolia
Strip Poker
Can't make a trip to Las Vegas right now? That's okay because you can play poker in the privacy of your own home. Spice things up with adding strip poker to the mix. Be careful not to bluff in the buff.
Zoo Day
Get wild and check out the animals at your local zoo together. Lions, and tigers, and bears, OH MY.