'SNL 40' Does "Celebrity Jeopardy" & It's Great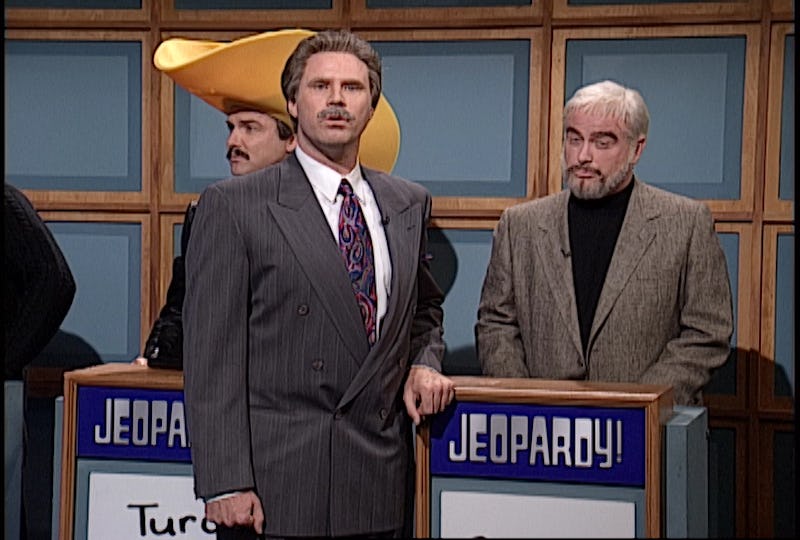 If the reunion of SNL cast members from a 40-year span doesn't get you feeling nostalgic, then the performance of one of the best sketches to ever appear on the show certainly will. On SNL 40 , "Celebrity Jeopardy" was brought back into our lives with everyone that made it the famous sketch it is today, and it was – in a word — incredible. With Will Ferrell, Darrell Hammond, Alec Baldwin, Norm MacDonald, and the addition of a few new faces, SNL 40 paid the perfect homage to one of the greatest sketches to date.
The "Celebrity Jeopardy" sketch, which always features a short-tempered Alex Trebek — played by Will Ferrell — was on point with Hammond's Sean Connery, Baldwin's Tony Bennett, and last but certainly not least, MacDonald's Burt Reynolds — err, Turd Ferguson. To use a line from another SNL fave, this sketch had everything: Mispronounced categories ("Who Reads" was "Whore Ads"), giant hats ("It's a big hat. It's funny"), and Jim Carrey's Matthew McConaughey. Although McConaughey doesn't usually make an appearance in the skit, it was a welcome addition because we can always use more Lincoln commercial McConaughey, right?
Fans on Twitter loved the famous recreation, because it really doesn't get more beautiful than "Celebrity Jeopardy" in 2015. Here's what they had to say.
Images: NBC