The Best 'SNL' Sketches OF ALL TIME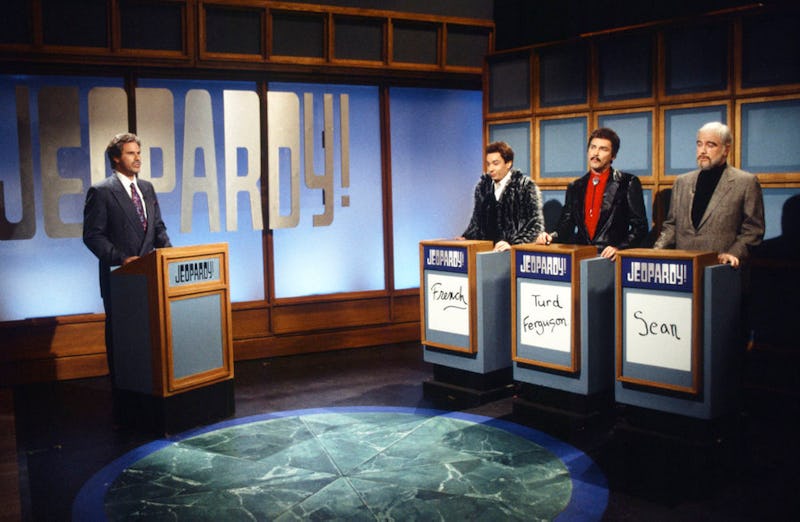 Back in 1975, Saturday Night Live hit NBC and 40 years later, it is still a relevant and funny look at the world through sketch comedy. On Sunday, Feb. 15, Saturday Night Live will have a 40th anniversary special, so it's only appropriate to reflect on the best sketches of SNL over the years. With SNL's four decades of material, choosing some of the best sketches of all-time was no easy feat. Forty years is a long time (longer than I've been living), so of course there have been dud sketches and characters over the years. But there have also been some fantastic, iconic sketches that people are still quoting years — and years — later.
The talent that SNL has had is astounding with people like Robert Downey Jr., Billy Crystal, Julia Louis-Dreyfus, Phil Hartman, Chevy Chase, and Chris Rock — all of whom are regrettably not featured in the following list of sketches. In an effort to limit the number of sketches, I only considered live sketches — no prerecorded commercials or digital shorts. (I know, I know. That means no "The Ambiguously Gay Duo," Lonely Island music videos, "Body Fuzion" workout video with Drew Barrymore, or Schmitts Gay Beer commercial. My apologies in advance.) I also eliminated any host monologues, but did allow some Weekend Update contributors to slip through the cracks.So here are the 18 best SNL sketches of all-time:
18. Spartan Cheerleaders at a Chess Tournament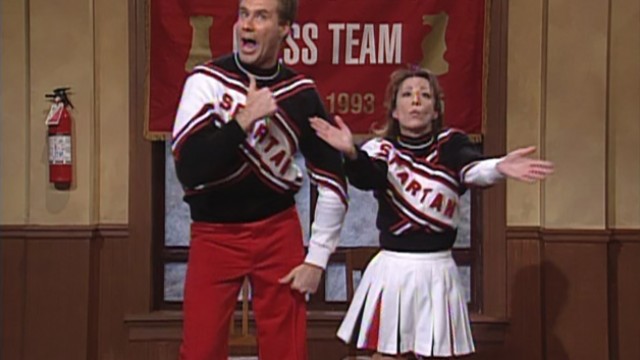 I'm a huge fan of Cheri Oteri and the Spartan Cheerleaders — Arianna was pretty much who I wanted to be in high school. (I must be Arianna for Halloween one year.) There is a great Spartan Cheerleaders sketch with Tom Hanks that's not available online, but the above chess tournament one is also a gem. ("Bobby Fischer — where is he? I don't know. I don't know.") You know what time it is? It's time for the perfect cheer!
17. Girl Watchers a Go Go
Speaking of Tom Hanks, America's favorite actor has been a frequent host of SNL and he played the role of self-aware catcalling street creep with utter perfection alongside Jon Lovitz. In the above video of Girl Watchers, the men take to a seniors cruise to up their chances of landing a lady. "Woah! Silver-haired siren at three o'clock."
16. Adam Sandler Sings the "Hanukkah Song"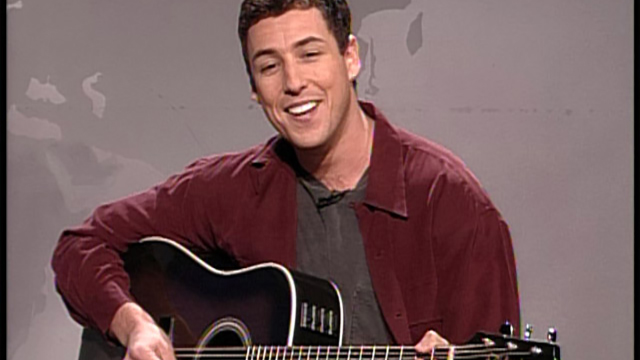 Whether or not you like what Adam Sandler has become (I'm assuming you're in the disapproval category), "The Hanukkah Song" and all of the greatness it is got its start on Weekend Update.
15. More Cowbell with Christopher Walken
Another multiple host like Hanks, Christopher Walken's most famous sketch has to be the Behind the Music of Blue Oyster Cult as famed producer Bruce Dickinson. "Guess what?! I got a fever and the only prescription is more cowbell." Just think of all of the t-shirts this sketch has inspired! (And don't worry, Jimmy Fallon broke in the scene per usual — grrr.)
14. The Barry Gibb Talk Show with Arianna Huffington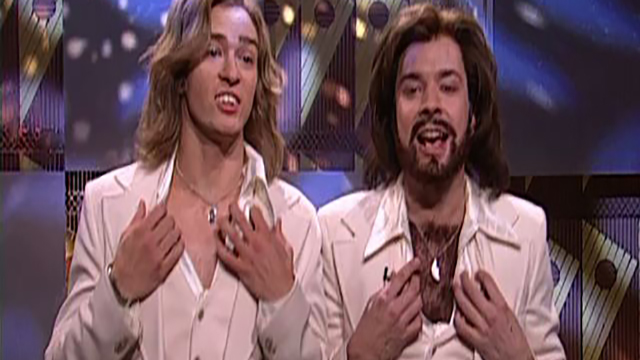 As I may have made clear, I didn't love Fallon on SNL since he was always laughing mid-sketch, but his "The Barry Gibb Talk Show" was so good, especially thanks to Justin Timberlake as Barry's brother Robin. "Talking about chest hair. Talking about crazy, cool medallions."
13. The Festrunk Brothers Date Using the Computer
And when you're talking about brothers who love chest hair and crazy, cool medallions, you must recognize Dan Aykroyd and Steve Martin as the Festrunk brothers. They were somehow adorable (? I know, weird) as the sex-crazed Czechoslovakia brothers who did not have a strong grasp of the English language or appropriate American culture. They were just "two wild and crazy guys."
12. Chippendales Auditions with Patrick Swayze
I wasn't always sold on Chris Farley's appeal, but the "Chippendales" sketch shows how hilarious — and endearing — he really could be. The best part of this sketch is how nervous Patrick Swayze appeared to be going against Farley. It was a true challenge to decide between this sketch and Farley's motivational speaker who is "living in a van down by the river" — just like it was a challenge for Chippendales to choose between Adrian and Barney.
11. Roseanne Roseannadanna on Smoking
Gilda Radner portrayed the obnoxious and epicly haired Roseanne Roseannadanna on Weekend Update. As a person from N.J., I gotta say it's not so bad, Roseanne! And can we just acknowledge the amazing woman power of early SNL was by having Jane Curtin anchor Weekend Update with contributor Radner.
10. Kissing Family Thanksgiving
The Kissing Family consisting of Fred Armisen, Kristen Wiig, Bill Hader, Paul Rudd, and Andy Samberg (in some form) manages to make me laugh, while simultaneously completely grossing me out. Jason Segel joined in on the fun and kisses this time when he brought his girlfriend home for Thanksgiving.
9. Gumby and Pokey
Another powerhouse entertainer who got his start on SNL, Eddie Murphy portrayed Gumby — yes, that green clay thing. He made Gumby a huge egotistical jerk, especially when he reunites with the elderly Pokey (Joe Piscopo).
8. Wayne's World: Driver's Ed
Can we take a moment to reflect on how young Ed O'Neill is in this clip? Wayne's World exploded beyond its SNL roots after its two movies, but the two high school boys filming a community access channel TV show was party time, excellent.
7. NPR's Delicious Dish with Alec Baldwin's Schweddy Balls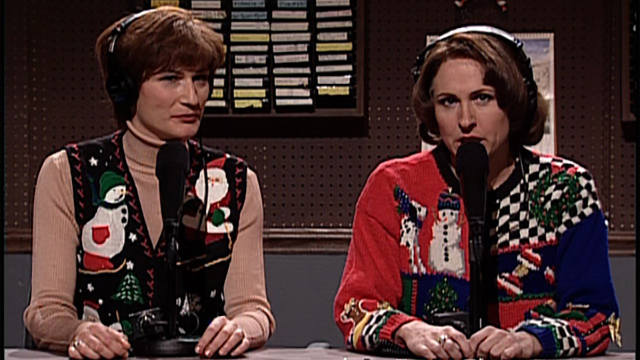 For Alec Baldwin's best moments on SNL, I was torn between this and his creeptastic Canteen Boy with Adam Sandler. But if I'm thinking quotable, Schweddy balls have to win. "No one can resist my Schweddy balls." And shout out to Ana Gasteyer and Molly Shannon for always being amazing during Delicious Dish sketches. Good times.
6. Mary Katherine Gallagher at St. Monica's Talent Show Auditions
Speaking of Shannon, her character Mary Katherine Gallagher also had a huge influence on me as a young girl aspiring to be comedian (and no, it's not just because we share a last name). Yeah, maybe the movie Superstar was rough, but Catholic school girl Mary Katherine Gallagher was always intent on making an impression. Superstar!
5. Church Lady with Pat Robertson
Dana Carvey has been George H. W. Bush and Austrian bodybuilder Hans, but his "Church Lady" sketch was so oddly amusing and accurate that it takes the cake. "Well isn't that special?"
4. Sarah Palin and Hillary Clinton Address Sexism
The dynamic duo of Tina Fey and Amy Poehler took on politics as Sarah Palin and Hilary Clinton — and utterly nailed it. Fey's poses while Poehler expressed intelligent thoughts were perfection.
3. The Ladies' Man: Holidays with Charlene
Although the women in politics on SNL may try to take down sexism, Tim Meadows's Leon Phelps embraces it completely. The Ladies' Man always had the right responses to your romantic queries.
2. Celebrity Jeopardy — "Suck It, Trebek"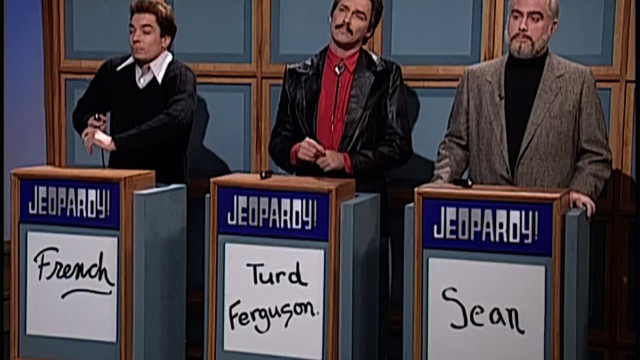 The Celebrity Jeopardy sketches never let me down and it was bizarre to see Will Ferrell play it straight as Alex Trebek. Darrell Hammond is one of the most undervalued SNL actors of all time with his spot-on impersonations, and he was at his best as Sean Connery antagonizing Trebek. "Ohhh rough. Just the way your mother likes it, Trebek." Honorable mention to Norm Macdonald as Burt Reynolds.
1. Coneheads Family Feud
The Coneheads Family Feud sketch is quintessential classic SNL. You've got Bill Murray as my favorite talk show host of all-time, Richard Dawson with Martin, Radnor, and John Belushi as the "normal" Family Feud family, and Aykroyd, Curtin, and Laraine Newman as the famous Coneheads family.
Seeing all of these fresh-faced actors reminds you how much SNL has contributed to our comedy landscape over the last 40 years — and how I hope it can keep staying topical (and amusing) for the next 40.
Image: Mary Ellen Matthews/NBC