The Californians Return to 'SNL 40' With Big Stars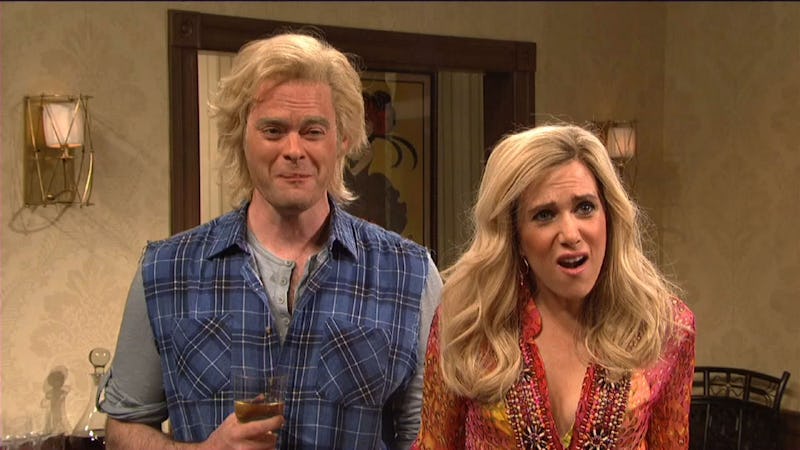 You either love or hate SNL 40 's "The Californians," but hopefully it's love, because they spent a good chunk of time on their anniversary show on a brand new sketch filled with so many celebrity cameos. The usuals were there, thank God, but it was really the cameos from Betty White, Taylor Swift, Bradley Cooper, Kerry Washington, and Laraine Newman that stole the sketch. The sketch's regulars were all there. Kristen Wiig and Bill Hader reprised their awful — yet, hilarious — characters, along with Fred Armisen and Vanessa Bayer. The accents were thick, the faces were dramatic, and the driving directions were more complicated than ever.
The first cameo was SNL original cast member, Laraine Newman, who was on the show from 1975 until 1980. She originated the role "Sheri the Valley Girl," so her presence on "The Californians" seems only accurate in where Sheri would be today. Bradley Cooper was another huge cameo, and he was decked out in full Californian gear — short shorts and a puka shell necklace. Taylor Swift, who was kind of awkward — sorry, girl — joined the Californians, along with Kerry Washington — who does an amazing Californian accent, by the way. But the real star was Betty White, who supposedly died in a hot air balloon accident, but survived and was reunited with her love: Bradley Cooper. There was a kiss, and it was amazing. I don't know which one of them was more lucky to be kissing the other.
Images: NBC