'The Bachelor' Is Teeming With Mean Girls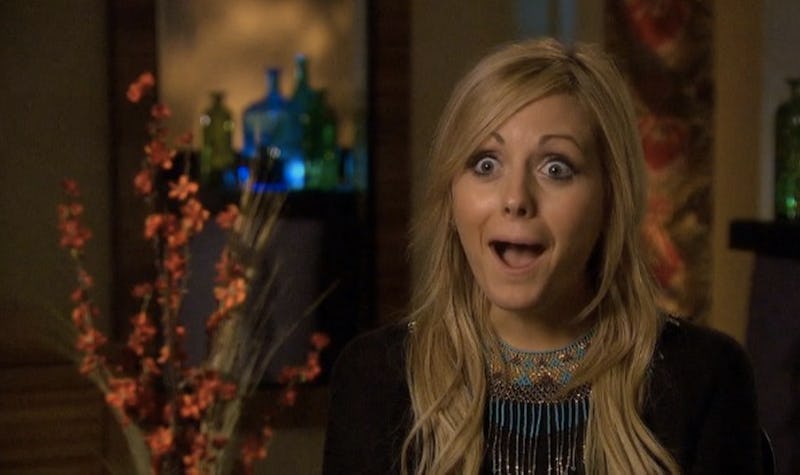 Usually, but this point in the season (see: the point at which "the villain" a la Kelsey Poe is cast off), things start to get tense, but increasingly romantic on The Bachelor. Women start to realize their time is growing short and that rubbing the man holding the roses the wrong way could cause him to make a rash decision and cut any woman's courtship short (it's not fair, but that's how The Bachelor goes). The great side effect of that totally unfair fear setting in is that mean girls tend to get the message: maybe don't be so mean. The Bachelor underdog Carly Waddell doesn't seem to have gotten that memo, because this week she got mean.
Now, Carly got upset about two things. First, Carly is irked by Britt's flip-flopping on Iowa (likely not helped by the time Chris woke up Britt and kissed her right in front of a very awake Carly), so she decides to tell Chris about it. Look: I get why Carly is upset. She is clearly the most in danger of elimination, but playing petty games isn't going to help her find her way to love. Pulling a gossip stunt like telling Chris "Hey, I'm pretty sure Britt is lying to you" isn't going to make Chris fall for her. That's simply not how emotions work. Sorry, Carly. I understand where you're coming from, but this wasn't exactly a great idea.
Second, Carly is upset by a possible front runner Jade. Jade confides in Carly that she hasn't yet told Chris about her Playboy photos and that she's concerned about making sure she tells him since her father found out before she could do the telling. It's a tough thing to tell someone, especially since Jade is so sensitive about people's opinions and her own decision to have been in Playboy. Carly was nice in the moment, acting as if she has some empathy for Jade's big dilemma, but in the talking head interview, Carly was all snark. She was just plain mean, acting so indignant at Jade's photoshoot and making jokes about Chris having to tell his mom "don't google my wife."
It's just disappointing. It's always hard to deal with the often unflattering things this show brings out in both the men and women competing in the Bachelor-verse, but when the pressure of the show brings out the mean side of the women who are inevitably pitted against each other as often as Chris' season has, I can't help but have an icky feeling.
Image: ABC (Screengrab)