Don't Miss The Grammys' Tribute To Stevie Wonder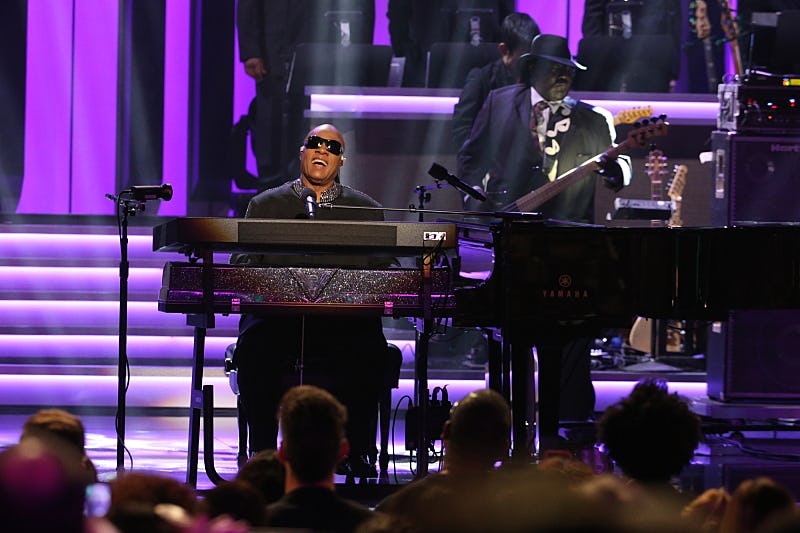 Are you ready for another grand night of music? Sure, the Grammys are a distant two-week-old memory, but CBS still has some more tunes for you — specifically, a salute to the legendary singer Stevie Wonder in Stevie Wonder: Songs in the Key of Life, airing Monday night. The special was actually taped on Feb. 10 in Los Angeles and features tons of today's big names belting out some of Wonder's classic jams like "I Just Called to Say I Love You," "Signed, Sealed, Delivered, I'm Yours," and "My Cherie Amour." But if you don't have TV, there will be some ways to watch Stevie Wonder's celeb-filled tribute online.
Among the names expected to appear to honor Wonder are Beyoncé (and if Queen Bey is there, you know it's serious business), John Legend, Lady Gaga, Ed Sheeran, Ariana Grande, Pharrell Williams, Jennifer Hudson, Andrea Bocelli, and many more. So you can tell there are going to be some performances that'll be must-sees. You can definitely see them, even if you don't have TV or a cable subscription, because that's the beauty of the internet — you can find (almost) anything and everything on there.
Here are your options for rocking out with Stevie Wonder and the gang on Monday night on your laptop.
YouTube
Ahem. Can't wait 'til tonight? Well, some lucky — and sly — folks who were present at the actual filming of the special at the Nokia Theater taped and posted some performances on YouTube. Of course, the videos are shot from pretty far away, so you can barely see Bey in action, but you can definitely hear the voices. Check 'em out before CBS finds out.
CBS All-Access
The Eye Network has this new service that'll let you stream the special live — for a price. A subscription to All-Access costs about $5.99 per month, which will grant you current and past streams to CBS shows. It's cheaper than Hulu and cable, and might be worth it if you heart CBS.
But if you're new to the service, you'll get a week for free to try it out and they won't charge your credit card if you cancel before the free week is up (hint, hint).
CBS.com & The CBS App
For now, the Eye has a preview of the special, but I anticipate the network will post highlights and performance clips online after the event has aired on TV, just like they did with the Grammys. So if you're patient, this will be the way to go.
Image: Monty Brinton/CBS