Jill Duggar Is Bucking A Family Tradition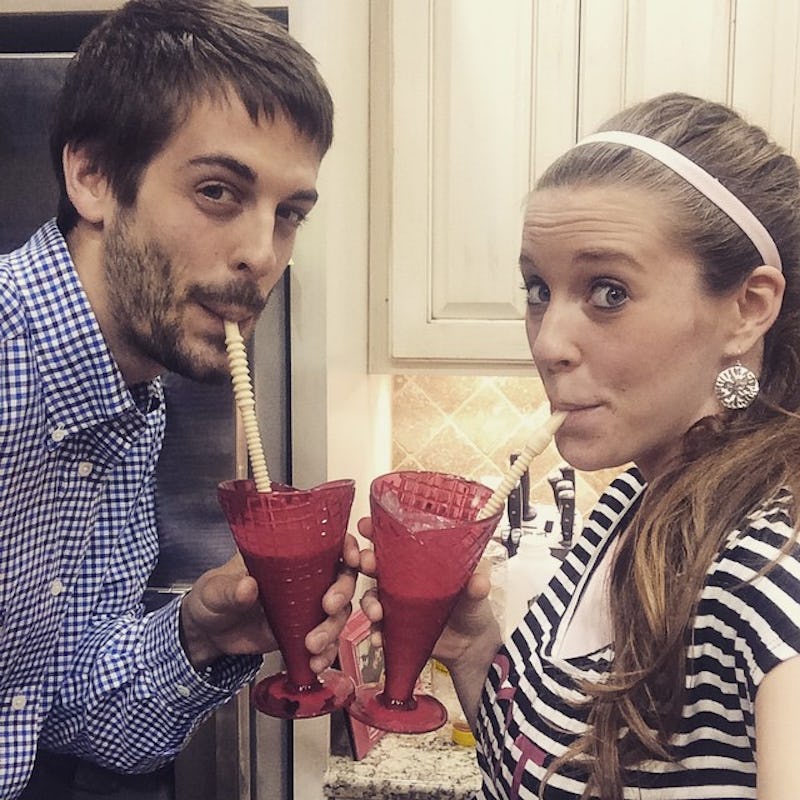 There are few people in the world more excited about Jill Duggar's pregnancy than me, and I can't decide if this is something I should be embarrassed about or not. Although I don't necessarily agree with their beliefs, I do agree with great reality television, and so for the past few years, I've been shamelelessly sucked into the world of the Duggars through 19 Kids and Counting. Everyone who watches the show obviously has a favorite Duggar, and mine is Jill. It was exciting enough when she got married in the most adorable dress ever, but now that she's expecting her first baby with Derick Dillard, I can't wait for Instagram posts of their new little one, a boy who should be arriving sometime in March. And obviously, the number one question on my mind is: What will Jill name her baby?
She hasn't been too forthcoming with what names she and Derick have kicked around, but Jill has said what she isn't planning to do: Continue her family's tradition of matching first initials. Jill and all of her siblings' names all start with J, and Jill's brother Josh and his wife Anna have children whose names all start with M. In October, Jill and Derick revealed to Today that they are skipping the coordinating baby names, and instead are looking at Bible names and family names for inspiration.
And in case they're still looking for ideas? I have a few for them.
Bible Names
Bible names are a cute idea, especially since their faith is so important to the Duggars. However, there are some... strange names in the Bible, and I'd hope that Jill and Derick would avoid them. Could you imagine Barnabas Dillard? I like Adam or Gabriel. Even Noah might be cute.
Family Names
My biggest fear with these two choosing a family name is that they're going to end up with Jim Bob Jr., which is honestly my worst nightmare. I think naming their baby after Derick's late father, Rick, would be a sweet gesture — he passed away when Derick was still in college, and on the show, he's talked about how much he misses and cares about him.
Pickle-Related Names
The Duggars clearly have an affinity for pickles, so I wouldn't be surprised if they came into play where the baby name is concerned. And since Derick and Jill began referring to their baby as Baby Dilly, I've been nervous that they're going to decide to just call the kid Dilly. Could you imagine anything worse than Dilly Dillard? No, because it doesn't exist, except for maybe Jim Bob Dillard. So here's my suggestion to them, if they're searching for a name based on Jill's favorite snack food: Don't name your child after a pickle.
Image: jillmdillard/Instagram