Where's Veronica Corningstone in 'Anchorman 2'?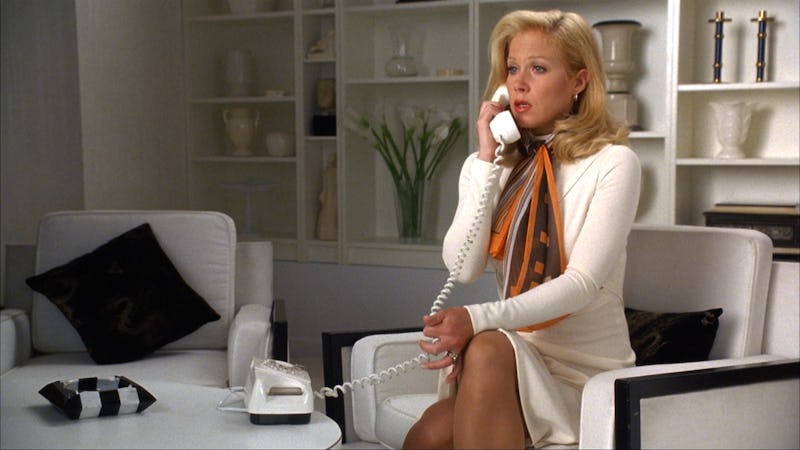 Poor Veronica Corningstone. Not only was she marginalized by the Channel Four News Team in Anchorman: The Legend of Ron Burgundy, but she's also been marginalized in the first official trailer for Anchorman: The Legend Continues .
In fact, we only get one shot of Christina Applegate's talented but unlucky-in-love (because, being Ron Burgundy's girlfriend? Come on!) newswoman in the new trailer:
That jacket is the whale's vagina, but what gives? Now, granted, she's not the only female featured in the trailer. Though very little is known about the plot of the film, it appears as though Ron falls for — or at least courts — another woman, played by Meagan Good.
So what does this mean for Ron and Veronica? Was she punted over an overpass? Eaten by a bear? Or did she simply travel back to her home on Whore Island?
Either way, it's distressing — it's not easy to hold your own amongst Will Ferrell, Paul Rudd, David Koechner, and Steve Carell, but Applegate more than rose to the challenge in Anchorman. She's one of the rare actresses who can simultaneously play funny and the straight woman. Remember this scene?
That said, it will be nice to finally see Good get her Hollywood due. Her roles in Think Like a Man and Californication should have made her a house name already. And the fact that she already starred in a film named Brick bodes good synergy for Anchorman: The Legend Continues.
Still, we freakin' love Veronica Corningstone. So, please, Anchorman 2, invite her back to the pants party for more than just one scene. After all, she's kind of a big deal.
Image: Paramount