Listen To The Real-Life Music From 'Empire's Tiana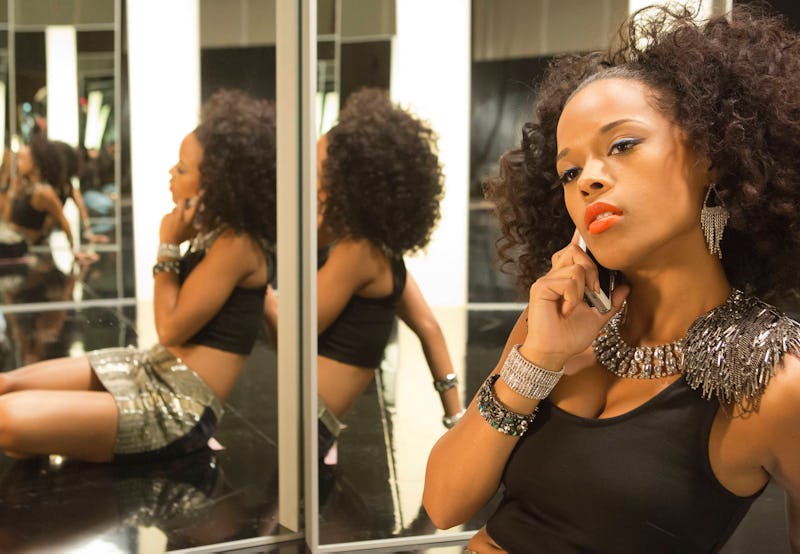 On Fox's Empire, it's hard not to think some characters might have parallels to real life. For a while, I theorized that Tiana Brown, played by Serayah McNeill, was modeled after pop singer Rihanna. I mean, that's based on the stone-cold fact that Tiana rhymes with Rihanna and they both sing pretty risqué tracks. Tiana's Empire portrayer McNeill is also a singer herself and recorded several tunes before landing her breakout role on Empire. McNeill, however, has more of an R&B sound compared to Tiana's sexy songs.
On McNeill's SoundCloud account Serayah Music, the 19-year-old actress/singer/dancer lists Aaliyah and Janet Jackson among her influences. No word of an upcoming album yet for the triple threat, but there's bound to be one in the works. As for Tiana, the young crooner sings the sultry hooks to accompany Hakeem Lyon's raps on songs like "Keep it Movin'" and "Drip Drop." Then there's also Tiana's booty shaker "Adios." Well, who's better? That's probably a matter of taste. You should also take into account that superstar music producer Timbaland is writing and producing all the music for Empire.
No matter what, both Tiana and McNeill are powered by a great voice. Here's a sampling of their musical styles.
Tiana Brown's "Adios"
Tiana can definitely stand on her own without Hakeem. In the video above, she doesn't even need any flashy stuff to get the party started during music video rehearsals.
McNeill told New York City-based radio station Hot 97 that playing Tiana has been a great experience combining her two dreams: Acting and music. "I've been wanting to act since I was 10 and do it all," she said. "This is a really good platform because my character is an artist and she's a popular artist, which makes it better. Acting is definitely something I'm perfecting."
Serayah McNeill's "Confusion"
This recently uploaded track on McNeill's SoundCloud is a melodic, lovelorn jam that truly shows off her strong vocals while singing/begging her lover to "choose her" in this time of, well, confusion (that's the name of the song!).
McNeill said during an interview during New York Fashion Week that she's definitely looking into a solo singing career, as well as working more with the Empire cast. "It's opened up so many doors and so many opportunities," she said. "It's really been a good ride."
Image: Chuck Hodes/FOX