Starbucks Gifted Us a New Latte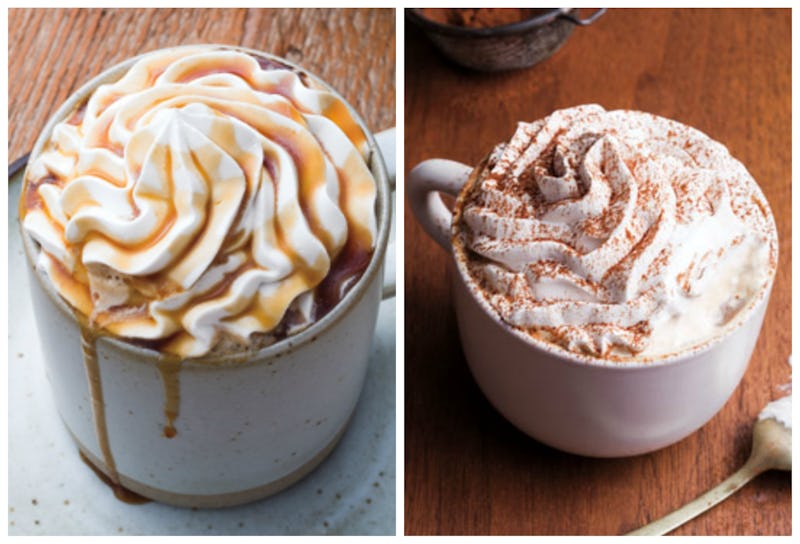 It's been a while since we've heard of a crazy new Starbucks drink, so I'd say this little tidbit is long overdue: Something called a Tiramisu Latte has arrived at Starbucks locations nationwide; furthermore, a favorite from last year, the Caramel Flan Latte, will also be returning. I'm just going to go out and say it: These two drinks pretty much complete the strange and mysterious transformation coffee has been undergoing in recent years. "Coffee" is no longer just coffee. It's now straight-up dessert. Am I right, or am I right?
According to the Chicago Tribune, these two tasty treats will be available for a limited time only; I haven't yet been able to find an end date, but the Tribune's Gregory Karp wrote that you'll be able to get them "basically during the winter season." The Caramel Flan Latte, which first debuted last year, mimics the "caramel flavors of creamy flan"; the steamed milk and espresso concoction is topped with caramel-infused whipped cream and "caramel flan drizzle" (whatever that means. I'm pretty sure it's just caramel, but that's just a guess on my part). Meanwhile, the Tiramisu Latte consists of espresso and steamed milk with "hints of mascarpone flavor and a delicate dusting of rich cocoa espresso powder." If you're looking for a little more detail, Starbucks Melody describes as "a cross between Gingerbread and Irish Cream flavors, but leaning more towards Irish Cream." That's an interesting comparison to me, given that tiramisu is an Italian dessert… but whatever. It does sound delicious, if a little sweet.
Or, y'know, a lot sweet. I wasn't kidding when I said that coffee is basically dessert now; here's proof:
1. Specialty drinks are more coffee flavored than actual coffee these days.
Not that there's anything wrong with that — but if it doesn't taste like coffee anymore, can we still actually call it coffee?
2. Almost all the drinks on most coffee chains' menus are inspired by dessert.
And by "inspired by," I mean you're pretty much just drinking a pastry.
3. Fancy-schmancy beverages often have more sugar in it than any single person could possibly need.
The recommended daily sugar intake for adults is about 25 grams, according to the World Health Organization. Most specialty coffee drinks have way more than that (a grande Caramel Macchiato from the 'Bux, for example, has 32 grams). This apparently isn't stopping us from drinking them, because they are delicious… but maybe we should think of them the way we think of dessert: Best in small doses.
4. We bribe ourselves with it as a treat.
Or maybe that's just me. Does anyone else do the whole "get this crazy to-do list of yours done and you can have a Gingerbread Spice Latte when you're finished" thing? I find it to be a great motivator.
5. We're not kidding anyone: When we order frozen blended drinks, we really just want a milkshake that's acceptable for adults to drink.
Of course, you can also make an adult milkshake by putting some booze in one — but that might be frowned upon as a mid-afternoon pick-me-up.
6. We replaced our holiday baking this year with trips to our favorite coffee shops.
Sugar cookies… or sugar cookie lattes ? You decide.
7. Presentation has become stupidly important.
Hi there, latte art!
8. We spend our days coming up with lists like this one.
WHAT IS MY LIFE.
Uh… sorry. Momentary existential crisis. In any event, stop on by your local Starbucks if you want to try out the Tiramisu Latte or Caramel Flan Latte for yourself — and do let me know how it is. I actually live three towns away from the nearest Starbucks (ah, suburbia!). Inquiring minds want to know!