We're Obsessed with Rodarte's Eye Bling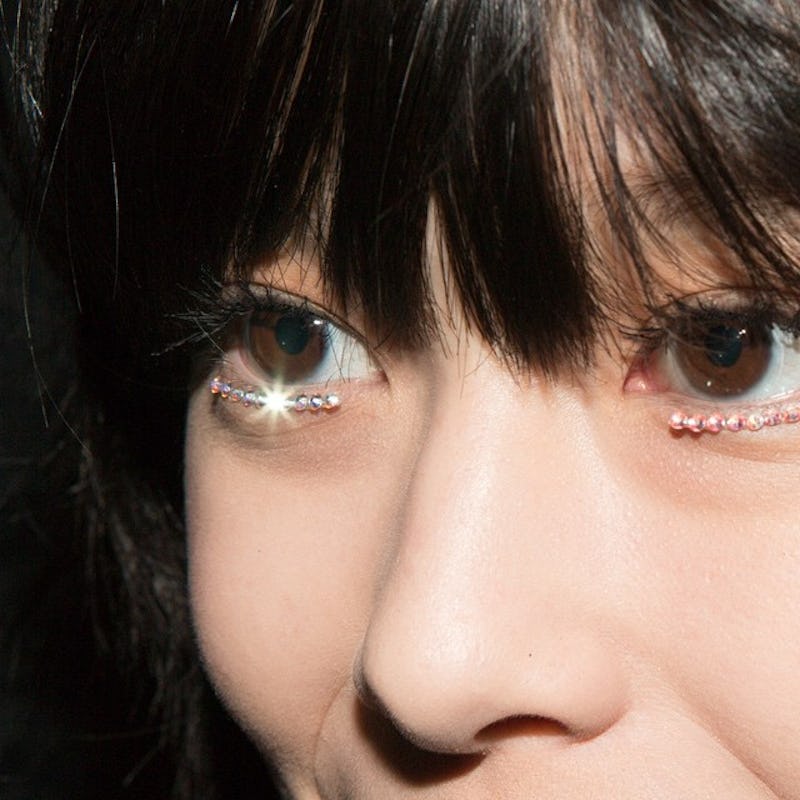 Rodarte has done it again. They've found a killer way to step up their runway beauty game by highlighting their models' eyes, not with eyebrow piercings, but with diamonds. Yes, those are Swarovski crystals on the Rodarte models' lash lines, and yes, I'm about to go to the nearest beauty store and attempt to recreate this look for myself.
As if Rodarte's collection wasn't innovative enough, the diamonds created a super bohemian yet classy sophistication representing the brand's west coast roots all too seamlessly. This isn't the first time Rodarte has befriended the Swarovski empire. Remember these mermaid gowns?
But seriously, can we seriously make this a trend for 2015? I am so ready to move on from 2014's drastic hair dyes. And we all know that the world isn't ready for more of those creepy contact lenses. Well, maybe everyone except Kimye. So world, what are we waiting for? Let's totally trend diamond lashes. They're just so dreamy, magical, and gorgeous. I mean, just look at them!
Seriously, who needs eyeliner when you have crystals literally illuminating your face? This is coming from someone who never leaves the house without winged eyeliner.
And if my plea for this trend isn't enough, here's what makeup artist James Karliardos had to say about the sparkly look he created: "The @official_swarovski crystal effect on the eye adds depth and shine to the lower lash and the glossy lip reflects the light." Are you sold yet?
If you want to recreate this look yourself, all you really need is some eyelash adhesive and diamonds. Nail art diamonds could work, too, unless you have thousands of dollars to burn at Swarovski. Then by all means, you do you.
Who knows, maybe we'll see this Rodarte fashion statement on the red carpet next week at the Oscars. Maybe Anna Kendrick won't be so disappointed with her look if she just adds a little bejeweled love. The takeaway? You can't lose when your diamond game is strong.
Images: intothegloss, emilywweiss, narsissist, official_swarovski/Instagram