"White Power" Signs Waved At Texas High School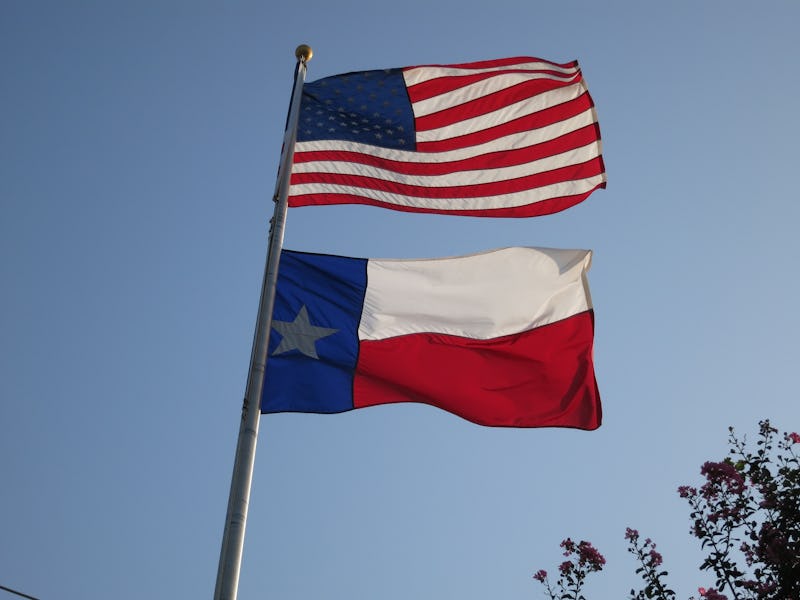 As a native Texan, I carry a distinct amount of pride for my home state. When abroad, I respond "Texas," and not "America," when asked from where I hail. But every once in a while, I am undeniably and seemingly irrevocably embarrassed to call Texas my home, especially when high school students flash "White Power" signs at a local basketball game. If you ever needed proof that our society is anything but post-racial and colorblind, look no further than east Texas, where students from a school near the Dallas/Forth Worth area decided to cheer on their (mostly white) team by holding up racist signs against the (mostly black) opposing team. Stay classy, Texas.
The game itself was a dramatic sporting event, with the teams from Flower Mound and Plano East going into three overtimes. But more attention was paid to the disgusting shows of bigotry and ignorance that manifested itself in large posters that read "White Power" than the athletic prowess displayed on the court. One of the players from Plano East told a local news station, "We thought it was racist. [The sign] said 'white power,' and we were shocked." Shocking indeed is the degree of racism and vulgarity that remains prevalent even in 2015, and perhaps even more shocking (and certainly more disappointing), is that this display occurred at a high school, suggesting that racism is not dying out with older generations. Rather, there is an institutionalized culture of intolerance that is as much a problem today as ever, and must be addressed.
The sign did not appear until later in the game, when the close scoring and excitement of the constant back-and-forth was at its peak. But suddenly, the atmosphere changed from one of friendly team spirit and competitive jibing to a far more insidious, hateful message. One athlete recalled, "Our student section started pointing at the sign. That's when it clicked into everyone's mind… 'Whoa... what are these guys doing?' And the teachers came and took the signs down." But for 30 horrible seconds, the signs remained on full display, and so too did the backwardness of certain parts of the state.
Eric Littleton, the coach of the Flower Mound basketball team, was quick to issue an apology via Twitter, writing, "Unacceptable. As head coach at FMHS I offer our full voice apology. I will pursue this fully. No place for this."
While some attempted to justify the signs as a mere coincidence, with "white" referring to the color of the Flower Mound team's uniforms, no one has been able to create an excuse for the use of "power." Deanna Thompson, a Flower Mound parent, expressed her disgust at such sentiments being expressed anywhere, much less a high school basketball game. Speaking to local news stations, she said, "It's just so sad that kids have to take it to that level. To me that's criminal… it's criminal, and it's just sick. This was not a mistake."
On Tuesday, Lewisville School District's Interim Superintendent Dr. Kevin Rogers provided a statement in response to the incident:
As Interim Superintendent of a very diverse school district and community, I have been involved with our internal investigation regarding the unfortunate occurrence at Friday night's Flower Mound High School vs. Plano East varsity boys' basketball game. I want to be clear that this type of incident – however it has been perceived – has not and will not be tolerated in LISD. We have always had high expectations for our more than 53,000 students and hold them to those standards both in and outside of the classroom.
As we stated yesterday, the investigation of this occurrence is still underway, and we fully intend to act on our findings. We regret that this unfortunate event has been elevated to this level on so many social media circles.
I am disheartened that the perceived actions of a few may reflect poorly on two great schools – Flower Mound and Plano East High Schools – school districts and communities. Ultimately, please know we have the highest respect for the students, staff and community of Plano East High School.
But somehow, that "respect" simply isn't being properly communicated to students, the next generation of Americans, who somehow, in 2015, still think that it is even remotely acceptable to make signs of that nature. Despite all our claims of "progress," perhaps the most dangerous thing we can do is ignore the fact that racism in the United States is far from dead — at least in northeast Texas, it thrives on a Friday night basketball game.
Perhaps the most disappointing aspect of the incident is that it occurred at a school-sponsored event. Somehow, in all of our education systems, we have managed to fail to instill the basic tenet of human respect. We teach our students how to read and write and do math, but somewhere along the way, is it possible that we have forgotten to teach the most important lesson of all?
The facade of racial equality is one that has worn painfully thin in the last few months. And this is a reality that people of color throughout the United States have lived with for generations, for centuries. And when incidents may make headlines every once in a while, they serve as stark reminders of how far yet we have to go as a nation in addressing inequality and institutionalized racism. Flower Mound vs. Plano East is not an isolated incident — it is part of a pattern that desperately needs fixing. And it is not, as some may suggest, a "misunderstanding."
So don't be shocked. Be angry. And be vigilant in doing your part to correct ignorance when you see it. Because while we may not always display white power posters at basketball games, the signs are everywhere.
Image: Neff Conner/Flickr