What Is 'Pirates Of The Caribbean 5' About?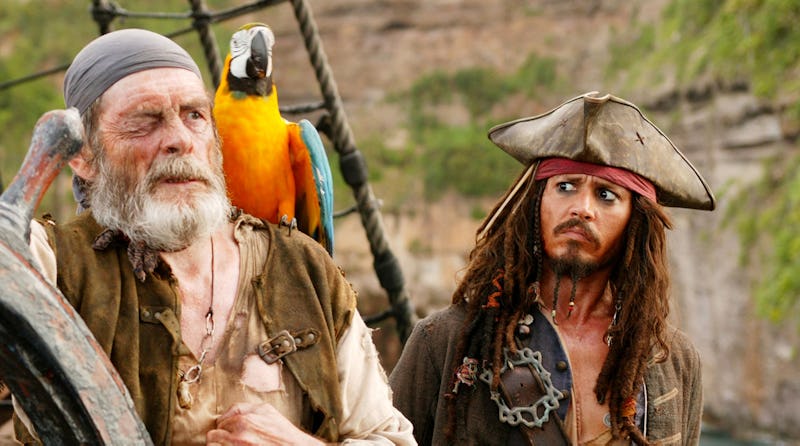 I'm sorry to be the one to say it, but as huge of a fan as I am of Pirates of the Caribbean and Captain Jack Sparrow, I am on the fence about whether or not it's really necessary for them to make a fifth Pirates of the Caribbean movie. But, to be fair, I didn't think they needed to make a second Pirates of the Caribbean movie, because the original was just that perfect. However, Pirates of the Caribbean: Dead Men Tell No Tales is the fifth movie in the franchise, and it is going ahead whether I am enthused by it or not. Now, we have an official plot synopsis for Pirates of the Caribbean 5 — and it looks like Captain Jack Sparrow is in way over his head. Again. But is anyone really surprised to hear that?
According to The Hollywood Reporter, the plot synopsis was revealed on Tuesday and states, "Thrust into an all-new adventure, a down-on-his-luck Captain Jack Sparrow (Depp) finds the winds of ill-fortune blowing even more strongly when deadly ghost pirates led by his old nemesis, the terrifying Captain Salazar (Bardem), escape from the Devil's Triangle, determined to kill every pirate at sea, including him. Captain Jack's only hope of survival lies in seeking out the legendary Trident of Poseidon, a powerful artifact that bestows upon its possessor total control over the seas." Take a moment to imagine Captain Jack Sparrow with total control over the seas.
In addition to the plot summary, the confirmed cast of the film has been expanded slightly to include Golshifteh Farahani (of Exodus: Gods and Kings fame) along with the pre-confirmed names of Johnny Depp, Kaya Scodelario, Javier Bardem, and the rest. And I have to admit that the film sounds like it's going to be another exciting, hilarious, rip-roaring good time following Captain Jack Sparrow all over the planet in search of treasure and adventure. He was the break out character of the first three films, so it's absolutely no surprise that Disney would continue the franchise with him as the true main character, but settling on a plot line that can still entertain and thrill viewers three films into a surprisingly successful franchise can be hard.
But deadly ghost pirates and the Trident of Poseidon that would really be in terrible hands whether Captain Jack Sparrow or Captain Salazar get their hands on it? Yeah, it looks like I'll be buying a ticket to the film I wasn't sure they should even be making just for that interesting concept alone. And, now that production on the movie has finally kicked off, it won't be long before July 7, 2017 is upon us and we can see Johnny Depp in all of his Jack Sparrow glory.
Image: misscinemafanatic/Tumblr; Disney