We're All Still Sobbing Over Snape's Life Story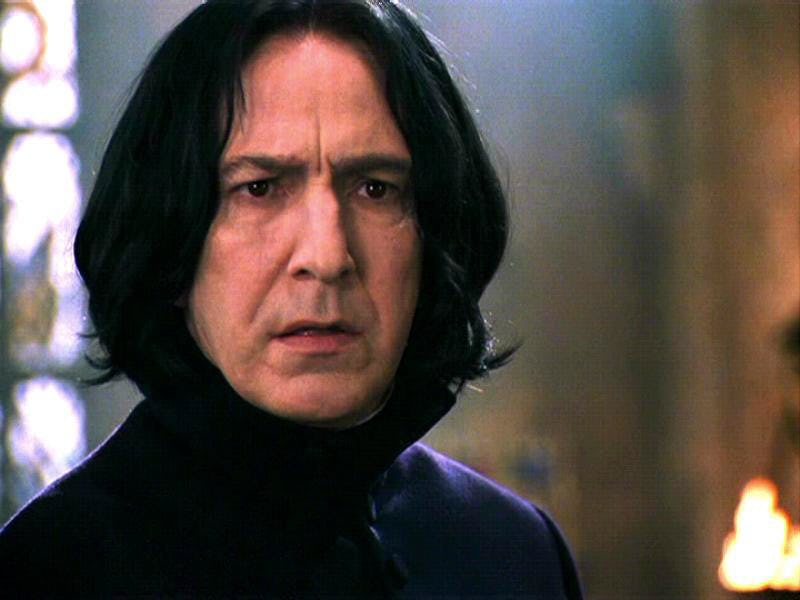 Is it getting a little dusty across the Internet? Because everyone's eyes seem to be welling up over this new video of Harry Potter character Severus Snape. Snape starts out in J.K. Rowling's Harry Potter series as ostensibly the big, bad villain, but little by little (including after the series on Pottermore), Rowling gives Snape depth and back story that show he is terribly misunderstood. YouTube user kcawesome13 collated all of those tragic, defining moments that have made Snape who is he, using flashbacks from the Harry Potter movies, and put them in chronological order in one truly devastating video that had everyone, everywhere just flat-out sobbing.
Snape, as we all know, is the potions master at Hogwarts, who eventually earns the coveted position of Defense Against the Dark Arts. When Harry first encounters Snape, he is cold and even hostile, and Snape acts as the antagonist to Harry against Lord Voldemort through the series. Of course, Rowling isn't going to rest on a two-dimensional portrait of a villain, and so she imbues him with humanity so readers can see through the stern sarcasm and into his true motivations. Even Dumbledore, Harry's mentor, tells the young wizard that he can rely on Snape. No spoilers here, but, in life and in Harry Potter books, people aren't always who they seem.
If you missed it the first time around, just make sure you're sitting with your box of tissues and your finger on pause just in case, here's the video of Snape's back story:
See?! Can we sign up this YouTuber to make full-length movies?
In the 15-minute video we get Snape as a child, where he grew up with his parents in the Muggle area of Spinner's End. And of course we see Lily Potter, the love of Snape's life (and yes, that Potter). We see the bullying, we see the deaths that shape him, we see his heartbreak — and we see the parallel story of Harry, Ron, and Hermione. And basically, everyone on the Internet died.
(See, aren't I nice to warn you ahead of time about the tissues?)
Of course, others knew all along that Snape was No. 1.
But not so fast, according to the woman who created Snape. Rowling has called Snape "a gift of a character," and one that she loves to write, but she refuses to say that she loves him or that he isn't "nasty." Answering a question about her favorite character, Rowling said:
I really, really like Snape. I mean, I wouldn't want to have dinner with him, but as a character he's great because he's complicated and quite nasty.
But what does the man himself, Snape, have to say about all of this?
Needless to say, Snape doesn't want your tears or pity.
Image: Harry Potter Wikia