"36 Questions" Art Installation In San Francisco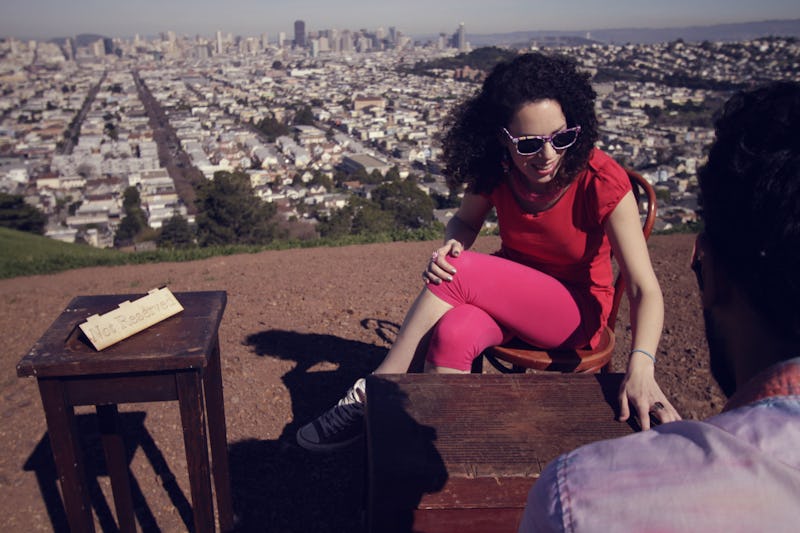 By now, many of us have tried to test the validity of Mandy Len Catron's "Modern Love" article in The New York Times, which uses research done by Dr. Arthur Aron in 1997 to argue that all a couple needs to do to fall in love is to work through 36 questions. The original study had strangers meet in a lab and ask each other three dozen increasingly intimate questions; one of the pairs eventually got married. Catron tweaked the concept by doing the experiment in a bar with an acquaintance; they fell in love, too. Now San Franciscans can try out the exercise on a hilltop overlooking the city. Will a spectacular view of SF and San Francisco Bay help their chances of finding love? Well, it certainly couldn't hurt, right?
San Francisco-based artists Mustafa Khan and Chris McCoy have created a temporary art installation inspired by Catron's "love experiment." Khan says of the article, "[It] caused a lot of buzz and conversation among my friends, and I wanted to give others a chance to participate in this experience." The installation consists of two chairs and a wooden treasure chest, upon which are engraved the 36 Questions. Couples (or complete strangers!) can sit, ask each other the questions, and then follow the final instructions: "When done, stare into each other's eyes. Then open with love." Upon opening the lid of the chest, they'll find a surprise. Sounds like a perfect setting for a first date. (Or a fiftieth date, for that matter. I tried the 36 Questions with my husband, and it turns out that the experiment is fun even with someone you've known for ages).
For those of you in the San Francisco area, there is still time to check out the project (and maybe even fall in love?). The installation will be on the top of Bernal Hill until February 23rd. You can find directions to the site and more photos here.
Images Courtesy Of: Mustafa Khan