'Mad Men' Ladies Are Channeling Some Total Icons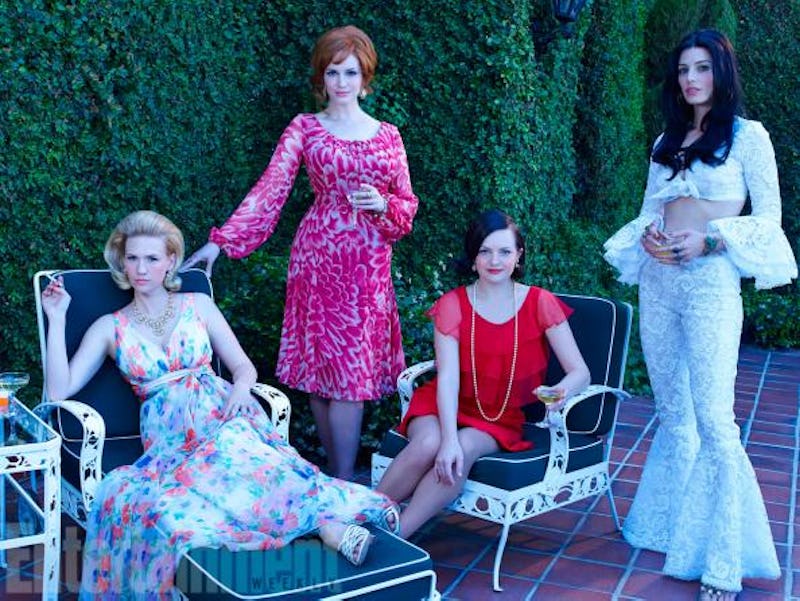 As we wait impatiently for the return of Mad Men, a faint light at the end of the tunnel can be seen. Yes, today Entertainment Weekly debuted some photos of the Mad Men cast, particularly of the Mad Women, and they're all deeply dressed in late '60s style. In fact, I can even sort of suss out what '60s icons each of our girls is channelling.
I know some of you may be skeptical, but rest assured, vintage fashion and the pop culture imagery it comes from are some of the few oddly specific things I'm well versed in. It's that, alternative girl bands from the '90s, and being able to identify a Girls episodes from Shoshanna's hairstyle alone. In fact, before my career ("career") as a cool writer chick, I used to work at a vintage clothing archive, where I learned all about where style originates.
Of course as we're getting only a thumbnail image of everyone's outfits, I'm only going to give you a thumbnail impression of who I think everyone's stealing their look. Nevertheless, feel free to check out the brightly colored outfits of our favorite ladies below, and humor me as I try to pinpoint where they're citing their style inspiration.
Megan Is Totally Channeling...
Cher!
Not only is Megan boasting dark, longer-than-ever locks, but look at her borderline ridiculous outfit! It is a travesty of seafoam-esque fabric (bell bottoms AND bell tops? What are you thinking?) that you could totally picture Cher wearing in 1969... and 2015, too, let's be real. Also that is some BOLD midriff she's boasting there, a midriff Cher would definitely approve of. It all makes a lot of sense, since Cher become over 9000 times more of a star after liberating herself from Sonny Bono. Is this the kind of career move Megan is hoping for after separating from Don? Is Megan's star now on the rise? Will she move on from her short tenure as a soap star to a Hollywood A-lister?
Doubt it. It's Megan, after all.
Joan Is Totally Channeling...
Elizabeth Taylor!
Here's the thing, although Taylor wasn't particularly a style icon of the '60s, her and Joan are certainly two of a kind. They're both true women of the 1950s that adapted the best as they could to a radical new decade, mostly by virtue of being generally fabulous. I can only imagine Taylor would have a deep appreciation for Joan's bright colors, bold prints, big earrings and modest bouffant. Not nearly enough diamonds, though.
Betty Is Totally Channeling...
Sharon Tate!
I know, I know, Megan's supposed to be Tate's parallel, there's a whole theory about it because she wore a similar t-shirt and she's an actress. And yeah, I certainly couldn't imagine Betty getting married in a mini dress with flowers in her hair. But her flowy dress is bringing some serious Valley of the Dolls vibes, especially with her lying around with her cigarette. I'm just saying, it's all very Jennifer North, and you can't deny that.
Sally Is Totally Channeling...
Twiggy!
Come on, look at that babydoll prairie dress! While I always thought Twiggy shined brightest in her tent frocks, Sally captures the general appeal of the '60s it girl. That is, Twiggy's whole allure was that she looked childlike.
To be fair, this partially works because Sally, at 16, is a literal child.
Peggy is Totally Channeling...
...a flapper Halloween costume from Party City? Yeah, I don't even know what's going on here, but leave it to Peggy to march to the beat of her own drum.
Images: AMC (2), Getty (2), Giphy (1)