The Most Early 2000s-y Moments At NYFW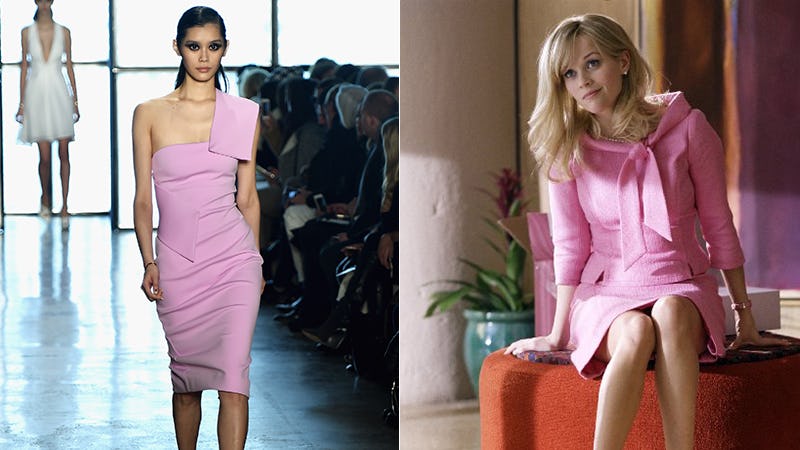 If you often find yourself craving the bizarre and questionable fashion trends of the early aughts despite their innately nonsensical nature, you're not alone. For Fall 2015 Fashion Week, designers appeared to pine for the early 2000s as well, and channeled their feelings of remorse into collections that mirrored some of the era's most treasured trends. As the year is 2015 and neither trucker hats nor metallic pleather is considered in vogue, designers opted for the period's more widely accepted fads.
In addition to the surprising resurgence of baby pink clothing, NYFW also bestowed upon audiences a handful of cherished yet forgotten trends. If you missed out on sports jerseys or cargo pants the first time around you're in luck, as the early aughts are colliding with 2015 in a way that unites sartorial nostalgia with avant-garde creativity. It's time to brush the cobwebs off the clothing stored deep in your closet, because the Millennium is upon us once again, this time with a focus on slightly more wearable designs.
1. Baby Pink Returned With A Vengeance
It may seem difficult to recall a time when baby pink clothing was socially acceptable, but the early aughts were the heyday of pale rose and blush — and now so is 2015. From Cushnie et Ochs to Kaelen, baby pink stole the Fashion Week runways. Perhaps Elle Woods had it right all along: Pink is a power color.
2. Crop Tops Took Over
Crop tops began the meteoric renaissance a few seasons ago, but the early-aughts trend has officially taken center stage. Belly buttons are Fall 2015's most highlighted physical aspect, whether you like it or not. Argyleculture took the trend to the next level by pairing crop tops with printed circle skirts and suspenders a la Cher Horowitz in Clueless.
3. Ruffled, Belted, Embellished Miniskirts Resurfaced After Years In Retirement
From roughly 2001 to 2007, the statement mini skirt was a must-have item in the wardrobe of every tween and teen girl. Whether ruffled, sequined, embellished with straps, metallic, or tiered, the mini skirt was a non-negotiable it item. For Fall 2015, designers brushed off the trend and gave it new life, whether in the form of satin flounces at Faith Connexion or python-embossed leather at Rebecca Minkoff.
4. Stripes Were Absolutely Everywhere
Stripes certainly never disappeared off the fashion industry's radar after becoming the next must-have pattern after grunge's crinkled plaid, but the trend is inescapable for Fall 2015. Rebecca Minkoff sent models down the runway in striped crop tops, sweater dresses, and mini skirts, while Tanya Taylor showcased the trend in black and white skirts and dresses, and Jason Wu designed an entire skirt suit of conflicting stripes for Boss's Fall collection.
5. Sports Jerseys Became Acceptable Street Attire
With the advent of fitness fashion in 2014, it was only a matter of time before the early aughts inclination to sport team jerseys returned to the runway. Tommy Hilfiger welcomed the trend into 2015 with helmets and varsity number-printed sweaters on his football field runway led by model Gigi Hadid, who took the style to the streets after the show.
6. Army Green Cargo Pants Stepped Back Into The Spotlight
I refuse to believe that anyone survived the early aughts without succumbing to the army green chino trend, in particular a pair with deep side pockets and a slightly baggy fit. If you missed your chance in 2000, the trend is back once again to the horror and chagrin of those who lived through it the first time championed by one Greg Lauren.
7. The Sweater Vest And Sweaterdress Made An Unexpected Repeat Appearance
I never thought I would see the day when the humble sweater vest would regain a foothold in mainstream fashion, but the trend is alive and well for Fall 2014. Worn over a crisp white oxford shirtdress at Creatures of Comfort and reimagined as a luxe leather crop top over a button down at Kate Spade, the concept of vest-style layering is once again at the forefront of fashion.
Images: Getty Images