Hard Candy Is Relaunching These '90s Classics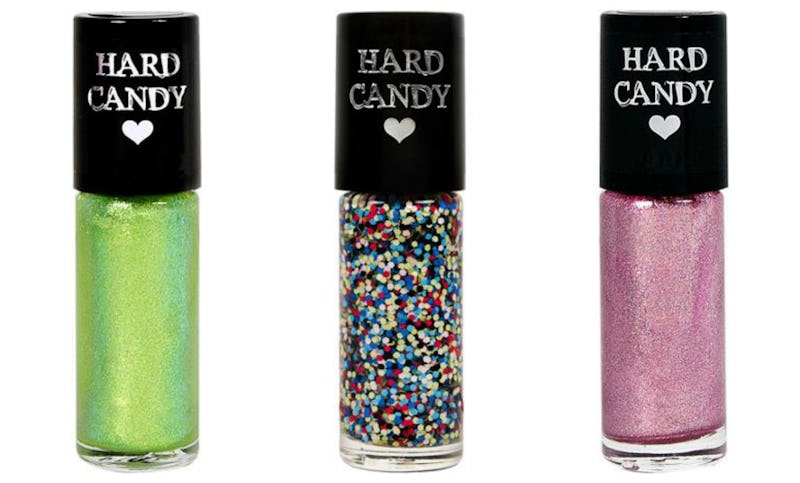 Essie, OPI, Deborah Lippmann? Ugh, as if! Today, it's all about jelly shoes, plastic chokers, and the candy-colored nail polish shades of yesteryear. Yes, the '90s are officially riding back into style in the backseat of Cher Horowitz's jeep wrangler (blasting the Spice Girls on the radio, of course). We were fangirling back in August over the return of the Hard Candy nail polish that '90s girls rocked back in the day while trading Bonne Bell Lip Smackers and telling secrets to our Talkback Dear Diaries, and now an official date has been announced! Hard Candy's 20th Anniversary Collection, featuring reissues of the most popular nail polish shades from the '90s, will be available in April. Talk about the best #TBT gift ever!
For the retro makeup company's 20th anniversary, Walmart is reviving the cult brand by bringing back those old school cotton candy colors that made it famous. According to InStyle, classics such as Alicia Silverstone's light blue fave, Sky, as well as "Claws Up, Mint, Scam, and Coconut — will be available in a set plus three new hues."
The glossy lacquers will come in a collectable tin and the whole set retails for only $4 at Walmart. That's a totally middle school allowance friendly price! You can also expect the revival of Hard Candy's heart-shaped blushes, sweet lip glosses, pastel eye shadow palettes. Ugh, you're totally gonna catch Hot Justin's eye in study hall...
Images: Walmart