'Walking Dead's Aaron Is A Master Impressionist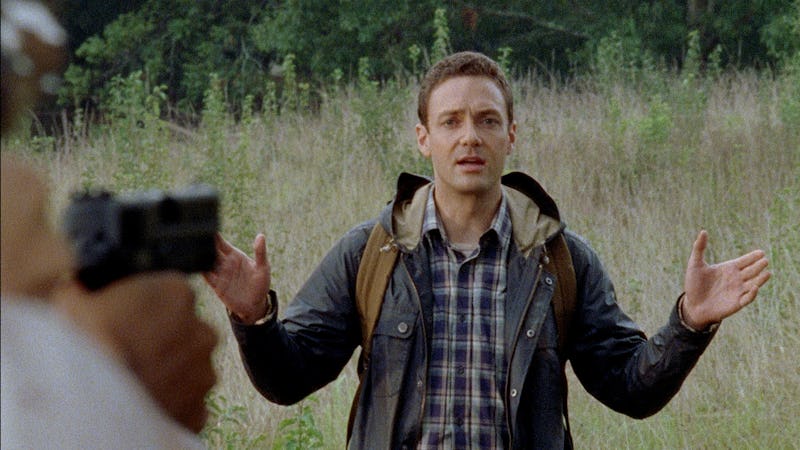 We are finally getting some long awaited Alexandria Safe-Zone answers from The Walking Dead. Last week Ross Marquand made his debut as Aaron and if they keep the character faithful to the comics, we can expect him to stick around for a bit. That being said, we should probably get to know Marquand and where he came from before joining the fifth season of The Walking Dead.
For those of you who don't know much about Aaron, Marquand hinted to Entertainment Weekly that he will be on the show for a while. Marquand said he is thankful he didn't get the part he originally auditioned for, Aaron (you remember, our cannibal friend), because "it was only three or four episodes." So at least we know he will be here longer than that. In the comics, Aaron serves as the connection to Alexandria Safe-Zone, so his appearance suggests the key location is coming up very soon on The Walking Dead. I'd bet they'll get there by the season finale.
Marquand also revealed to Entertainment Weekly that he is a big Walking Dead fan (because it's the best, obviously). "I was a huge fan of the show since the Halloween 2010 debut. We were totally broke and didn't have the money to go out for Halloween, so we all looked at each other and were like, 'Do you want to watch it again?' We just sat there and had a PBR party and watched it again and were so impressed."
So what else is there to know about Marquand?
Celebrity Impressions
Marquand is the master of A-list celebrities. Apparently Alanna Masterson, who plays Tara, recognized him from his impression videos. He told Access Hollywood, "Alanna just said, 'I know you from somewhere'... And she figured it out and then after that, Steven [Yeun] and then Lauren [Cohan] and Sonequa [Martin-Green] just would throw out suggestions non-stop. And then of course... everyone was chiming in and throwing out suggestions, and I'm like 'Oh my goodness, this is crazy!'"
Mad Men
During the sixth season of the advertising drama, Marquand appeared in an episode entitled, "The Flood" as Paul Newman, who was the keynote speaker at an advertising awards dinner.
"House Of Thrones"
He appeared as Kevin Spacey in a sponsored video called "House of Thrones" for Quiznos. It's a parody video mashing up Game of Thrones and House of Cards. Obviously Kevin Spacey wins all. But essentially, it's also a Quiznos commercial. We all have to start somewhere.
A Lonely Place For Dying
Marquand plays a KGB mole who has evidence against the CIA, which he will use to seek asylum in the U.S. He stars in the film alongside James Cromwell, AKA Babe's owner! "That'll do pig, that'll do."
The Impression Guys
Marquand also stars in and produces a web series called The Impression Guys, which is about a group of impressionists who want to quit the impression business and become serious actors.
Amira & Sam
Last year he was had a role in the indie rom-com alongside Martin Starr (everyone's favorite geek) and Paul Wesley, a vampire native to Mystic Falls.
We'll have to wait and see how Aaron stacks up alongside Marquand's other roles — those impressions will be hard to beat.
Image: Courtesy of AMC