These Squirrels Are Enjoying Winter More Than You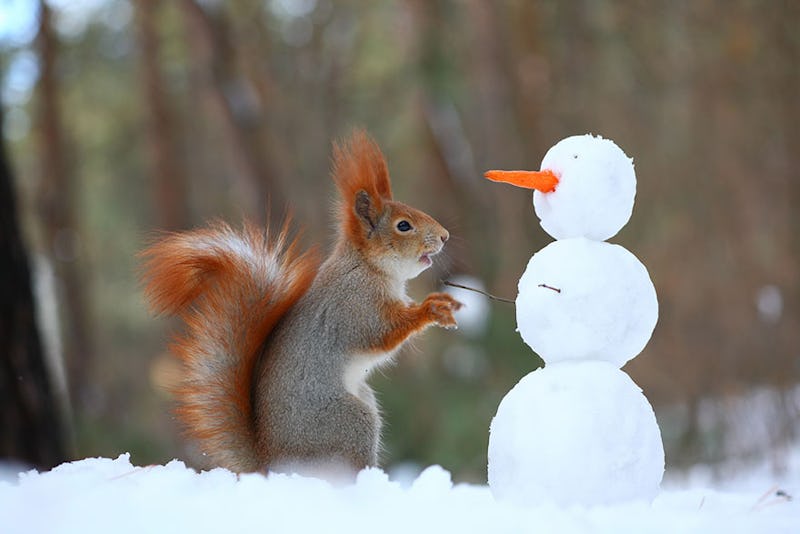 These squirrels appear to be having the times of their lives playing in frosty winter wonderland. Hey, at least someone is enjoying this interminable, God-forsaken winter, right? Vadim Trunov, a Russian radio engineer, photographed these surprisingly chipper rodents in the forests outside of Voronezh, a city in eastern Russia. The photos show a number of red squirrels—distinctive for their coloring and adorably abundant ear tufts (seriously, how crazy/amazing are those ears?)—frolicking through the trees and playing with pinecones, nuts, a tiny snowman, and even Trunov's camera.
In reality, the squirrels might not be as playful as they appear in the photos, but let's just choose to indulge in this particular narrative. Although the pictures of the squirrels tossing nuts and pinecones look eerily like they're enjoying a friendly game of volleyball, these are actually scenes of them fighting over food. Meals are scarce for squirrels in the winter, so when Trunov placed a pinecone in a clearing on the day of his photoshoot, it wasn't long before a hungry squirrel came to claim it. In an interview with the Daily Mail, Trunov describes the fierce battle that ensued:
A little while later a second squirrel appeared, this one tried to banish the first squirrel and lunged at her. It was amazing to see because they both would spring into the air, it was truly fascinating to watch. But the first one squirrel was not going to give her cone. She grabbed the cone and jumped to her. Then she attacked and chased away her opponent.
Similarly, the photographer's wonderful pictures of a squirrel interacting with a tiny snowman may also have been spurred by food. Trunov told The Telegraph that he made the snow sculpture (I know. We're all sad about the fact that the squirrel didn't made it herself), and that the squirrel was extremely interested in the tasty carrot that he used for the snowman's nose. Whatever the motivation may be for these squirrels' actions, the resulting images are absolutely delightful—enough to pull us all out of our winter-induced depression spirals, at least for a few blessed minutes.
Check out more of Trunov's nature photography at his 500px page.
Image: GiftCards.com/Twitter