The Unmentionable Show That Needs To Be Mentioned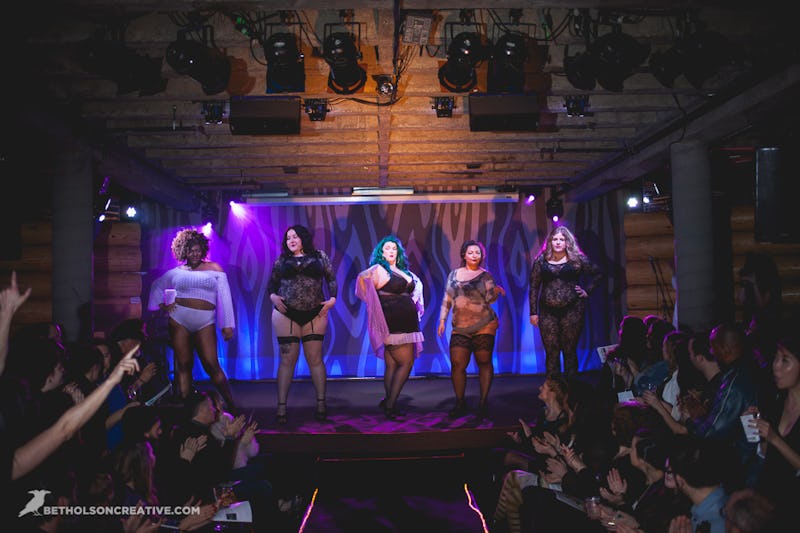 Oh Portland, Oregon: Let me count the ways I love thee. No, really — there are so many great things about this city, including its love for micro-breweries, bookstores, brunch, VooDoo Donuts, anything DIY and, of course, the quirky and hilarious show Portlandia that's sure to crack a laugh (even if you've never actually been to Portland). Portland seems to emit this home-grown sense of charm that adds so much depth to its community, and let's face it — it's a hipster's dream city, home to a myriad of indie shops, stores, designers and brands. So it's no surprise that Portland also happens to play host to a fashion show that is not just progressive in nature, but all-encompassing in its portrayal of beauty and the everyday woman.
Unmentionable 2015: A Lingerie Exposition! took place on February 10th at the Doug Fir stage (which is normally used for indie band shows) that turned into a catwalk for a plethora of talented indie designers showcasing their new lines of intimates. Now, I'm not normally one to get my panties in a twist over an average, everyday lingerie fashion show (unless, perhaps, we're talking the Victoria's Secret Fashion Show), but this presentation was unique and special — not only because of the creative and one-of-a-kind lingerie featured (who doesn't love velvet, lace and chains?), but because this show featured something the Victoria's Secret Fashion Show never does: Both average and plus models strutting down that runway. Not to mention women of varying races, ethnicities and overall aesthetics. Now that's something I like to see.
Unmentionable featured some fantastic indie designers such as Lillie Boutique (who showed some gorgeous high-waisted velvet panties), Rachel Rector (known for her color-blocking), Mowest Creations (who has cleverly placed applique hearts on her bodysuits to flatter anybody's booty) and Amy Fox of Iron Oxide (who designed fancy body chains to adorn the black bodysuits of some gorgeous models).
Bringing the plus-size power to this show was the fabulous Shawna from Chubby Cartwheels. Showing off one glorious, sexy, plus-size beauty after another, strutting confidently down the catwalk, Chubby Cartwheels added to a sense of beauty and fashion diversity — not just for people of all colors and styles, but all sizes as well. Her line featured gorgeous lace and mesh bodysuits, babydolls and robes that run from a 1X up to a 5X. Ultimately, the items are sure to fit a plus-size woman of any physique and make her feel like the goddess that she is (something Chubby Cartwheels is known for, alongside a creative, edgy, bold sense of style that offers fashion you cannot find anywhere else for the plus-size woman).
As a plus-size woman myself, I am always at a constant battle with the world to aid in the progression of the fashion industry and to help open society up to a broader spectrum of beauty. I truly find the accepted fashion industry standards to be dated, and quite ridiculous in their expectations of beauty and body (something I hope that we, as women, are slowly but surely realizing). So when I see the people of Portland rally together to put on a fashion show with retailers designing with us in mind — using models that reflect us all — I am overcome with a sense of admiration, respect and pride. Portland, you're doing it right.
No matter what color, size or style you happen to be, sitting in the bustling, enthusiastic audience at Unmentionable 2015: A Lingerie Exposition! you could find a model to relate to. This was a show for us — the consumers; the everyday non-model. These indie designers are community-driven. They want to provide something different — something more personal and self-reflective — from the normal, mainstream fashion world. They offer a more progressive look at fashion and beauty and reflect as much in their lines. And that, my friends, deserves a very honorable mention.
Images: Flickr/Beth Olson