This New 'House Of Cards' Teaser Is So Ominous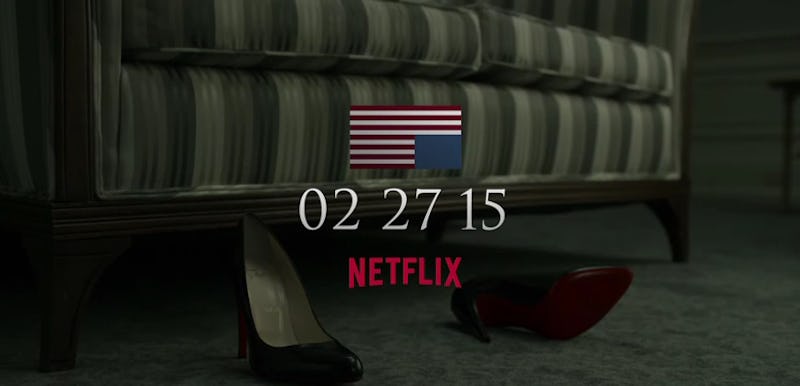 Even though Season 3 of Netflix's political drama House of Cards accidentally leaked on Netflix very briefly a few weeks back (as in, for 5 minutes), there's still plenty of mystery surrounding what's to come for the newly appointed President Underwood. After two seasons of watching the most brilliantly conniving man in Washington move his way up the White House ladder, he's finally made it to the top, and I have a feeling his thirst for power has only just begun. His taking of the throne feels a lot like Macbeth, except that both Frank and Claire are Lady Macbeth. Just take a look at the new House Of Cards teaser trailer — that red underlay of Claire's Louboutin's aren't just a fashion statement. Any fan of the show knows that the blood on the hands of the Underwoods will never be cleansed. (Nor would we want them to be.)
The new trailer also leaves plenty to the imagination. The shots are slow and controlled, we see empty rooms, bodies only from the neck down, and a breeze blow menacingly through an American flag. It's all so chilly, intense, and almost completely incomprehensible. What are the Underwoods planning? What left Claire so starving? IS SOMETHING HAPPENING ON AIR FORCE ONE?
I guess we'll all have to wait until February 27 to get the answers.
Here are the most ominous moments from the dark new trailer:
The Cigarette
What else is Frank going to squash? Why was it left still burning!?
The Phone Line
You know she's toying with a lot more than that cord.
Air Force One
No way this is just an innocuous meal. Or, is this just a trap to make us THINK something is going to happen aboard the plane?! GAAAAH.
Zulu
So we're going to Zulu...
Midnight
I have a feeling no one is turning into a pumpkin.
Hall of Presidents
Feels a bit like The Shining, no?
The Flag
That breeze was not cool. NOT COOL.
The Shoes
Oh we're all dying to know where Claire has been all day as Frank awaits her on the sofa. How do they make the most domestic moments feel so utterly chilling?
Check out the trailer in full: