'The DUFF's Robbie & Mae Had Great Double Dates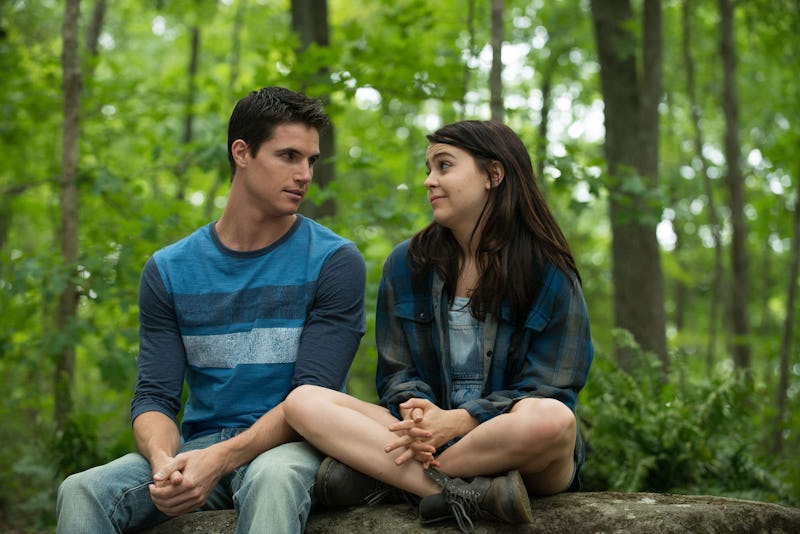 Let's get one thing straight: The DUFF is not about people being fat and ugly. Even though "DUFF" stands for "designated ugly, fat friend," it's more about self-confidence and being happy with yourself than insults other people throw at you. Star Robbie Amell is passionate about pointing out that difference, and he signed on to the project because he appreciated the lessons it teaches young women.
In the film adaptation of the book by the same name (in theaters Friday, Feb. 21), Amell plays jock Wesley Rush, the next-door neighbor of titular "DUFF" Bianca Piper (Mae Whitman), and they help each other find their true selves throughout the course of the movie. Along the way, Amell explains, he and Whitman also got to know each other through hilarious double dates with his fiancée, Chasing Life star Italia Ricci, and Whitman's boyfriend (whom she keeps a secret from the public) and plenty of improvisation. If you've seen the trailer for The DUFF , you're probably very familiar with Amell flexing his chest muscles, and he told me a story about taking his co-star by surprise with that little jiggle.
"When I'm bouncing my chest in front of her in the locker room, I didn't tell her I was going to do that. I just grabbed Ari [Sandel] the director and I made him promise that if it came across really douchey, he wouldn't put it in the movie," he reveals. "And then she came around the corner and I just started doing it, and you can see her actually laughing. That was the take they used — they kept the one where she breaks and smiles and laughs a little at me."
Another improvisation from Whitman came from a kissing scene in which she quips back about him being a "tongue guy," Amell explains. "The written line was, 'Really, because I think I felt it in my stomach, it was so far down my throat,' and she changed it to, 'Really, because I think I felt it poking out my butthole.' The laugh after is me actually cracking up because I had no idea she was going to say that, and I love that they kept it in. I think it's maybe the best line in the movie."
As you can probably expect, Whitman is as hilarious offscreen as she is in character, and that made it easy for her and Amell to become quick pals. "Right off the bat we kind of hit it off. I've been a big fan of Mae's for a while and I think she's so funny and witty and sarcastic. I was just trying to keep up with her the whole time," he says with a laugh. "We had a lot of fun. Her boyfriend came to visit a lot and he's a great guy, and my girlfriend at the time [Italia Ricci], who is now my fiancée, came to visit as well. We all would hang out and the whole cast was really close. It just made it very easy to play off each other."
And what exactly is a double date like for these two? Not as exciting as you'd think — but again, it's all about Whitman. "Pretty casual. Just like any other double date, I guess," describes Amell. "Dinner, hang out. It was probably funnier than most just because Mae is so friggin' funny. Like intimidatingly funny. She's always got a witty joke, so you gotta kill her with silliness."
All joking aside, Amell is glad to had so much fun while sending out a great message to young women. He thought the film had a modern John Hughes feel while still having a "lot of heart and ultimately a good message." Unlike '90s and early '00s films that show a girl changing for a guy like She's All That, Amell explains, "I feel like the movie isn't about a girl going through a makeover — it's more about two people helping each other figure out who they are and get comfortable in their own skin, be confident, and really find themselves." In the end, he hopes teenagers will see the movie and know "not to try and change themselves for anybody else" and to "love who they are instead of trying to be someone they aren't."
As for Amell's future, he's ready to tackle more big films and TV roles — other than recurring on The Flash as Firestorm, his dreams are Walking Dead, Game of Thrones, and Brooklyn Nine-Nine — and he doesn't mind taking his shirt off for the right project.
"It's expected at this point. It's funny, we had a drinking game on The Tomorrow People that whenever Luke [Mitchell] or I were shirtless, you had to drink. And nobody ever made it through a full episode!" he says with a laugh. "It's not that bad — it's gotten to a point where unless it's necessary, I'll fight it a little bit, but I understand it and I'll play the game. It's The CW, so what are you going to do?"
Images: CBS Films; Giphy; Getty Images