Dove Wants You To #SpeakBeautiful On Twitter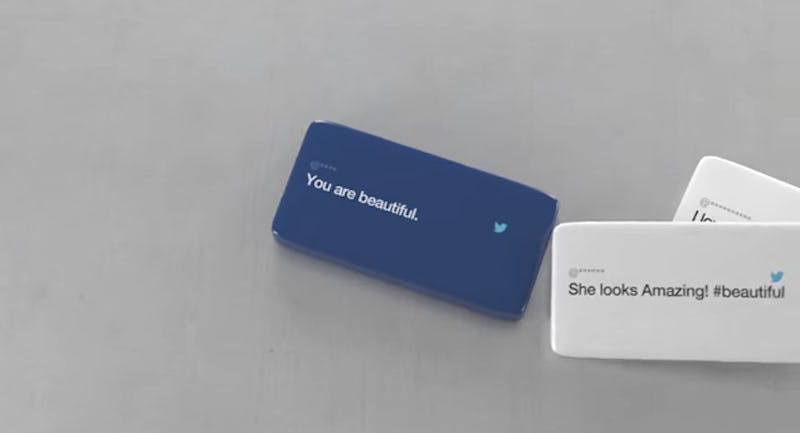 The Internet can be a vile, hateful place sometimes — especially for women. In order to combat frequent and demoralizing language, Dove has launched its #SpeakBeautiful campaign on Twitter in hopes of changing the way we talk about beauty. Because it's not just anonymous trolls spewing hate about women all over the Internet. It's all of us.Sure, this is still an ad campaign geared at selling you its products. But Dove's history with body-positive advertising (at least in America) speaks to its ability to use its network to raise awareness about the saturation of unrealistic standards of beauty in our culture. You've certainly watched celebrities read cruel (and often bizarre) tweets about themselves on Jimmy Kimmel. Why is our culture so permeated with cruelty masked by anonymity, the video inquires — a point that definitely carries weight.
The campaign will officially launch during the Oscars on Sunday evening, reports the Huffington Post. "Twitter technology will identify negative tweets about beauty and body image posted during the show, and the Dove account will respond to those tweets in real-time," facilitating a discussion about commentary made during the program.
"Last year women sent over 5 million negative Tweets about beauty and body image," writes Dove in the video's description. "But it only takes one positive Tweet to start a trend." As Julie Zeilinger at Mic points out, this campaign is unlikely to turn the entire system on its head, but it may help to raise awareness about the emotional and psychological impacts of Internet bullying.
Here's how this is currently taking shape on Twitter.
Engage with the conversation over on Twitter, and check out its campaign video below.
Image: Dove/Youtube