An Official Wish List For 'Frozen 2'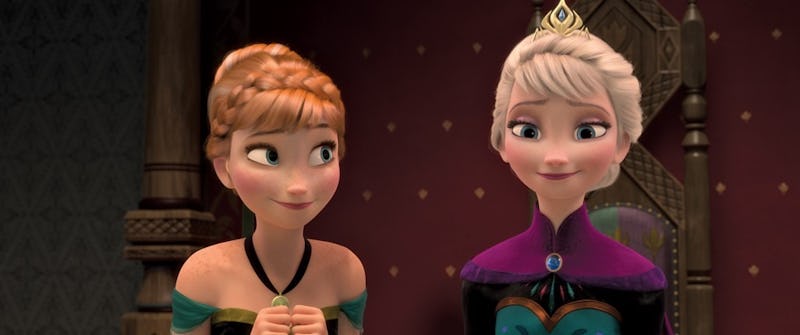 It's been over a year since Frozen was released, and Disney has yet to announce plans for a sequel — what's the deal? It's a gold mine, just waiting to make even more money with a second movie, and now that Kristen Bell says that the original cast is interested in returning for Frozen 2, it should just be a matter of time before the official announcement happens. I'm sorry, Disney, but what are you waiting for? This Frozen Fever short business — as great as it is — is just not going to be enough. I need a Frozen 2, and I need it now.
Hey, if it happens, I already have my wish list ready of things I need to see in the next movie.
Obviously, it's always tricky when making a second installment of a movie as beloved as Frozen. After all, what Disney movie has actually had a successful sequel that didn't suck — aside from the Toy Story franchise, of course. But, this is Frozen — it has an amazing cast and plot, and honestly, I have full faith in Jennifer Lee and her ability to make another movie that's just as good as the first, and in case she needs a few suggestions before starting on the script, I have plenty.
A killer soundtrack
And obviously, this soundtrack would include a reprise of "Let it Go" with new lyrics about Elsa's totally awesome life — now that she's happy to be herself and shoot ice everywhere and stuff, y'know?
Anna and Kristoff's wedding
Shot far in the future, of course — because you can't marry a man you just met, and I think Anna learned that lesson in the first movie. But they're clearly destined for each other, and their wedding would be precious. Could you imagine Sven as the best man?
Elsa using her powers for good
Like creating ice castles for homeless children, or providing more magical snowmen with the ability to enjoy warm climates without melting. Now that Elsa can be proud of her powers, I'd love to see her do something awesome with them.
More tiny Elsa/Anna
My favorite scene from the first movie was "Do You Wanna Build a Snowman?" I can't get over how cute young Elsa and Anna are, and I'd love to see more flashbacks that feature them as children.
Tons more wandering Oaken and his family
God, they're adorable.
And no more trolls, please.
Is it just me, or does anyone else always fast forward through the "Fixer Upper" scene? I just don't think the trolls are necessary at all. That song barely advanced the plot, and it took screentime away from Elsa, which is unacceptable.
Images: Disney, Giphy (6)