Photos Of Dubai Torch Tower On Fire Are Terrifying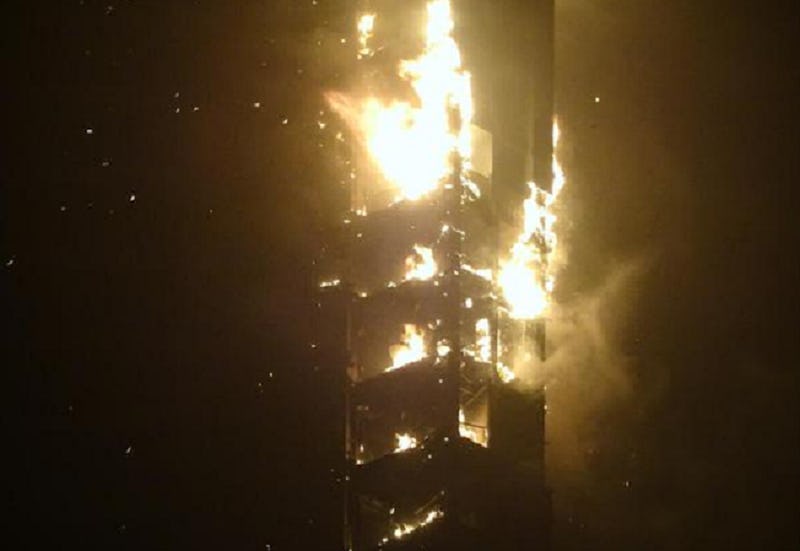 A massive fire broke out in the world's tallest residential structure, the Dubai Torch, early on Saturday morning, causing waves of panic and forcing thousands of residents to evacuate the 345-meter tall building. The fire began on one of the building's 50th floor and spread quickly to others due to high winds, causing huge pieces of the building's exterior to fall to the ground below.
There were no immediate injuries or fatalities according to officials who spoke to NBC news, but the scene was nonetheless terrifying.
According to Gulf News, the fire caused lights to go out on the side of the complex, which is located in the marina region of Dubai, and triggered showers of molten glass, which onlookers said was one of the biggest dangers. Tenants have been plagued in recent days by multiple false alarms triggered by faulty smoke detectors throughout the building. The paper reported that the alarm on Friday woke residents just after 2 a.m. Said one resident:
There have been three fire alarms every week recently and all were false. This time I heard it and said it must be false. But then I smelt smoke. I took my wallet and ran down along with my wife. We live on the 59th floor.
Pictures and video of the horrific blaze began flooding social media immediately after officials had begun clearing the structure:
Emergency responders had the fire under control by around 4:27 a.m. local time, but authorities told reporters that they were still unsure of what caused it. No serious structural damage was reported.
One resident, Steve Short of Liverpool, England, told AP reporters that guards had initiated evacuation immediately after alarms sounded, sending building workers door-to-door in order to ensure that no one was missed. Another witness told ABC News that there were around 10 fire trucks on the scene as she fled to a nearby apartment where she and a friend watched responders battle the blaze from afar. "You could actually see the flames being pushed out by the fire hoses," said Kathryn Dickie, who resides on the building's 13th floor.
Image: Ramial Gadi/Twitter