9 Old Movies That Are Surprisingly Feminist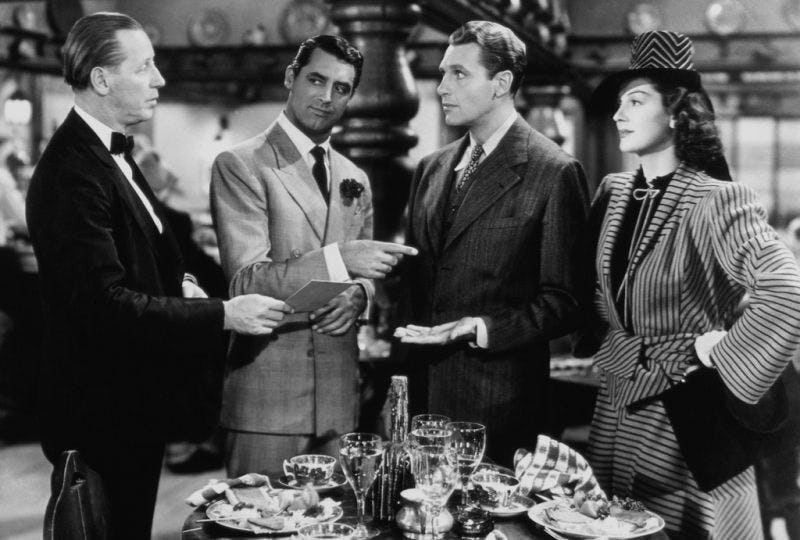 We tend to think of classic black-and-white films as pretty bad ground for women's equality. The ladies in them look fantastic, sure, but the gender politics can be fairly awful: they're there to look silly, make catty remarks, and ultimately do the "natural" thing and bow to love and marriage. Right? Wrong. While that depressing state of affairs does characterize many old-school films, there are several stunning examples in classic cinema of powerful women kicking caboose and taking names on their own terms.
So what qualifies as a seriously feminist film for this list's purposes? For one, the focus can't be on ultimately being "tamed" by a man: the amazing Female (1933) starring Ruth Chatterton, about a tough female boss of a huge automotive factory who uses men and does what she likes, is fantastic until the last 10 minutes, when she's basically bullied into marriage and children because that's "what women are born for." (Yes, that is an actual piece of dialogue.) And complicated, driven women are in, but woman-on-woman "shrewish" competition is out — hence The Women (1939) , an all-female romp about competing for a man's attention, doesn't make the cut.
Ultimately, it's all about taking female strength and purpose seriously — and, in some of the films, it's not even remarked upon that a woman would want to take charge of her own destiny and make her own choices. It's simply a fact. That's pretty radical even in today's films. Here are nine classic films which feature strong, complex, well-rounded women.
1. Mildred Pierce (1945)
Mildred Pierce was one of the first films to showcase an ambitious career woman as a central character: in this flick, Joan Crawford, as the mother who pushes incredibly hard and sacrifices virtually everything for her nasty little spoilt daughter. Mildred isn't unflawed — but she's powerful, and intent on getting what she deserves.
2. The Little Foxes (1941)
This film was actually pretty remarkable for the time, because it featured a Southern aristocratic belle who wasn't a brat or markedly hopeless. Instead, Regina, played by the awesome Bette Davis, is fighting her brothers for her well-deserved share of their inheritance. Regina inevitably goes too far in her pursuit of justice, but her rage against the confines of her gender is palpable and accepted.
3. The African Queen (1951)
Now mostly famous for pairing Katharine Hepburn with a spectacularly grumpy Humphrey Bogart, this film should be better known for the fact that Hepburn's character drives the whole thing: she and Bogart get stranded in a German-controlled bit of Africa at the outbreak of WWI, and she hatches a plan to convert their knackered boat into a gunboat and torpedo a German warship upriver. And she's more than a match for Bogart's embittered captain, intellectually and emotionally.
4. I'm No Angel (1933)
Oh, Mae West, how we love you. West was one of the first female comedians to get the big bucks and be frank about her sexuality. I'm No Angel, which she also wrote, features her in a lot of romantic entanglements (at least five) as a burlesque dancer, and while she does eventually find true love, she does it with some feminist ass-kicking. She sues her ex-fiancee (who was tricked into breaking off the engagement) for breach of promise, cross-examines all her ex-lovers herself, wins the case, and gets back together with him. Score 100 points to West.
5. His Girl Friday (1940)
This screwball comedy from Howard Hawks looks pretty normal on the surface — Cary Grant uses every trick in the book to lure his best worker and ex-wife, Rosalind Russell, back to his — but it's actually pretty subversive. Rosalind, as Hildy, is clearly the brains of the operation, and she and Grant match wits and ambition all the way to the inevitable happy ending.
6. Queen Christina (1933)
Greta Garbo stars as the gender-bending, completely non-compromising Queen Christina of Sweden, who was renowned for dressing in men's clothes in an attempt to be taken seriously in the patriarchal environment of the Swedish court. In real life, Christina's story was more interesting — she abdicated her throne because she didn't want to marry anybody, for one thing — but Garbo's Christina is an intensely powerful woman who makes difficult choices for her people and herself.
7. La souriante Madame Beudet (1922)
This surrealist short is regarded as the first truly feminist film: a woman imagines the death of her stupid, humiliating husband, before a twist keeps her imprisoned in the marriage. It's very much from her point of view, and depicts her as intelligent and fully formed. It's both very silly and very sad.
8. The Thin Man (1934)
The Thin Man movies, based on the novels of Dashiell Hammett, are technically all about Nick Charles' (William Powell) pursuits of criminals and murderers, but it's his marriage to Nora (Myrna Loy) that got the headlines. And deservedly so: Nora, based on Hammett's own partner Lillian Hellmann, is an equal, trades wisecracks at every opportunity, and is enraged when Nick, in a fit of justifiable chivalry, knocks her out to prevent her being shot at a crucial moment. "I wanted to see you get him!" she yells. Damn straight.
9. 'All About Eve' (1950)
If you see one film on this list, make it this one. While the terrifying Eve, who manipulates everybody to supplant actress Bette Davis and get all her fame and roles, is a bit sociopathic, it's the serious Davis who carries the picture: she's a fully rounded, highly intelligent, very sad character with huge flaws and high ambitions. That's what feminist cinema is really about: not perfect women, but ones who try to take charge of their destinies, have real weaknesses, and come to know their own strength.
Images: Wikimedia Commons