Happy 90th Birthday, Edward Gorey!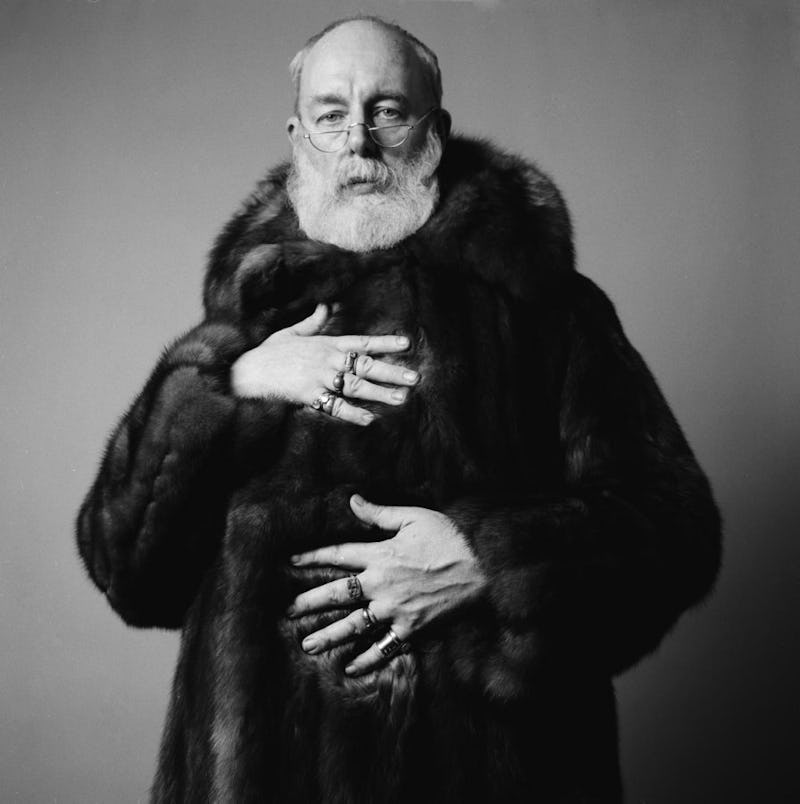 Writing and illustrating an alphabet book that appeals to jaded adults more than school-aged children is no simple task. Nor is making the grisly death of a hapless little girl and her doll sound as whimsical and mellifluous as the ABC's (the original version). Nor is penning the first, and very probably the only, horror-porn "illustrated story about furniture."
But these are only three of the books that Edward Gorey, that master of the macabre who would have turned 90 years old today, ushered into the world (The Gashlycrumb Tinies, The Hapless Child, and The Curious Sofa, respectively). And the world is a weirder and more wonderful place because of him.
Gorey, whose spindly illustrations and campy Victorian stories inspired generations of Goths after him, was an eccentric genius with a taste for fur coats who, along with writing and illustrating over 90 books, contributed his artwork to over 60 others. Gorey was born on this day in 1925 and died of a heart attack in his adopted home of Cape Cod in 2000, but his legacy — both literary and aesthetic — lives on today. His wonderfully deadpan stories of violent deaths, mischievous children, and illicit sexuality are definitely dark, but they are always tempered by a wicked sense of humor and a blithe spirit.
One cannot be a casual Gorey fan: if you like him, you love him. And if you love him, you likely seek that specific blend of camp and wit in all the art you consume. Look no further, weirdos: you'll love these seven books, all of which honor Gorey's moody aesthetic and, more importantly, his everlasting humor.
From the Mixed-Up Files of Mrs. Basil E. Frankenweiler by E.L. Konigsburg
The cheeky Gorey famously dreamed up 26 oddly specific modes of death for 26 especially unlucky children ("H is for Hector done in by a thug…"), and in much of his work the writer and artist celebrated (or laughed at) the particular irreverence of childhood naivete — like the endearing guilelessness of a child so dreamy he mistakenly drank lye (I'm lookin' at you, J is for James). E.L. Konigsburg's timeless middle-grade novel also pays its respects to idiosyncratic children — the precocious Claudia Kincaid and her little brother Jamie, who run away from their suburban home to camp out in the Met — with a Gorey-worthy American Gothic plotline to match.
"Ligeia" from The Raven: Tales and Poems by Edgar Allan Poe
Gorey's obsession with outlandishly macabre methods of annihilation is perhaps matched only by American Gothic OG Edgar Allan Poe. There's no doubt that Gorey was influenced, in both mood and camp, by the great Poe: pick up any of Poe's stories or poems, and you'll see why he influenced generations of Victorian-era worshippers like Gorey. But I'm partial to Poe's 1838 short story "Ligeia," a grotesque masterpiece featuring one of the most horrific instances of corpse-reanimation ever written.
Good Omens by Terry Pratchett and Neil Gaiman
Edward Gorey's work has a way of making you feel sort of guilty about its humor: like, am I a terrible human being for feeling gleefully thrilled by the image of "Great-Uncle Franz, beside the lake/…being strangled by a snake"? What redeems these temporary pangs of guilt is the firm knowledge that Gorey never, ever takes anything seriously — not death, not social mores, and certainly not himself — and neither should we. Good Omens, Terry Pratchett and Neil Gaiman's wacky End-of-Days satire, tackles big, guilt-inducing issues — like religion and morality — with a fast-paced hilarity so undeniable, so straight-up campy, it'd make oddball Gorey proud.
Miss Peregrine's Home for Peculiar Children by Ransom Riggs
What makes Gorey's work so memorable, perhaps more so than his wonderful stories, are his brilliant, whimsical illustrations: his bibliography is living proof of the magic that results from pairing words with pictures. Ransom Riggs' Gothic tale is, in its own way, a modern interpretation of Gorey's chosen oeuvre: not only would the chilling orphans who populate Miss Peregrine's Home for Peculiar Children play nicely with Gorey's Gashlycrumb Tinies, but the addition of creepy vintage photographs enhance the story's creepy-crawly atmosphere.
The Phantom Tollbooth by Norton Juster
Along with death and creepy children, Edward Gorey had a thing for punchy rhymes and sneaky wordplay. (In addition to penning and illustrating his own sing-song stories, Gorey illustrated a 1982 version of T.S. Eliot's Old Possum's Book of Practical Cats, a surprisingly cheerful collection by the canonical poet.) I wouldn't be surprised if Gorey and the similarly punny Norton Juster were pals. Juster's classic children's novel, which follows the intrepid Milo on his adventures through "the Lands Beyond," is so fun and astute and charming that it'll appeal to adults as well as children: I, for one, have revisited The Phantom Tollbooth every year since first falling in love with it at age seven, and it inhabits a prized position on my bookshelf next to my copy of The Gashlycrumb Tinies.
The Ladies of Grace Adieu and Other Stories by Susanna Clarke
Everyone loves a good fairytale reboot. Gorey knew this in his fantasy-tinged stories and illustrations, and writers like Angela Carter, Emma Donoghue, and Marissa Meyer have all tried their hand at reimagining the traditional folkloric landscape. One of my favorite Fairytale 2.0 collections is Susanna Clarke's The Ladies of Grace Adieu and Other Stories, which pays homage to the British tradition while also casting a decidedly satirical gaze on the historical and literary tales — along with their attendant social and moral connotations — that Clarke revisits. Sounds a bit like another sassy storyteller we know, right?
Carry On, Jeeves by P.G. Wodehouse
The Chicago-born Gorey is an American treasure, but all of his work has an undeniably Anglo slant. For instance, The Unstrung Harp, one of Gorey's first books, spoofs the genteel English upper crust: the book opens with an illustration of the gentleman novelist Mr. Clavius Frederick Earbrass "on the croquet lawn of his home, Hobbies Odd, near Collapsed Pudding in Mortshire." Satirical enough for you? No doubt Gorey was well acquainted with P.G. Wodehouse's Jeeves, the quintessentially competent English valet to his aimless employer Bertie Wooster. I think that Carry On, Jeeves, Wodehouse's short story collection, is best enjoyed as an audiobook; listen to it on your daily commute for a cheeky hint of dry British humor.
Image: Edward Gorey by Richard Corman