Kerr Smith Says He's Not 'The Fosters' Villain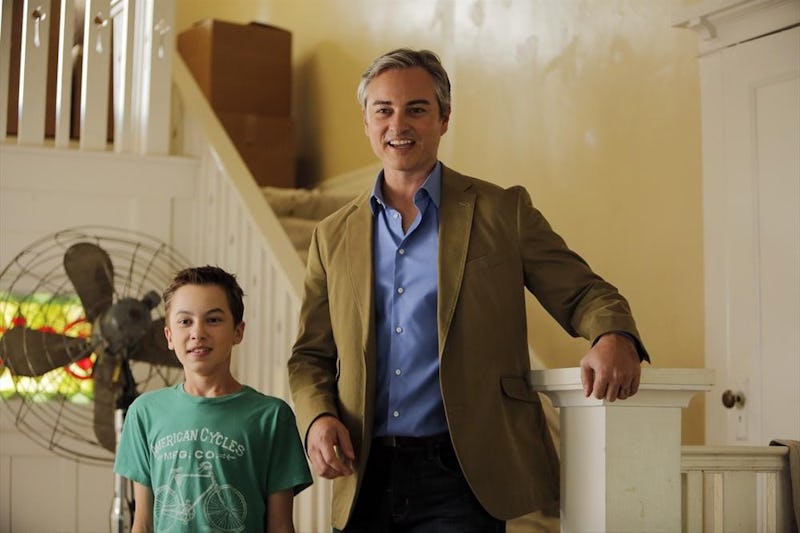 ABC Family is no stranger to dealing with dark, heavy, and important issues, and The Fosters has seen plenty. To say the least, the series has been packed with drama, but it went to a whole new level when Kerr Smith joined The Fosters as Robert Quinn, Callie Jacob's biological father. I spoke to Smith about his character and why Robert isn't quite as villainous as some fans think he is.
Even though he's only been in a handful of episodes, Robert's caused all kinds of problems and brought to light even more issues on the show. Smith says he's never seen Robert as the villain, because he's heard others are "rooting" for Robert, but he understands why some viewers see him that way.
"Is it fair? Sure. Everybody's gonna root for the Fosters. I know that," Smith said. "But, that's one of the things that was really important to me when I decided to take on this role. Robert's viewed as the antagonist in this particular situation and this storyline. I wanted people to feel for Robert. It's much more interesting when… people can understand why he's doing what he's doing, not that he's just doing it."
So why is Robert doing it? Well, we must remember that not only is Robert Callie's birth father, but he also was not aware of her existence back when she was born. Now, Robert feels guilt and wants to get to know his daughter. Smith continued, "He's doing it because he's a victim as much as Callie is in life, because he wasn't aware of her. I said this on the show, but if I was aware of her back in the day, then there'd be nothing to talk about, because she would be my daughter and we would have have a life together."
Even though Callie's been living with the Fosters, there's still a chance (especially based on the promo for Monday's episode) she'll move in with the Quinns. Per Smith, if Callie does decide to move in with Robert, well, Lena and Stef probably won't be too happy.
"Oh yeah, of course. It's killing them. Robert can see that for sure. I wouldn't say he's ripping her out of the family. He's doing it because of good intentions, not bad ones," says Smith. "Stef, especially, sees Robert as a threat, being a police officer and coming from that perspective and all that. If you look at it from Robert's perspective, he's not doing anything wrong. He just wants to get to know his daughter better. That's it, and he has every right. I think in a court of law, and I think the Fosters know it, the judge is going to swing in the Quinns' direction no question."
Does this mean there's going to be a custody battle in the future? Smith didn't elaborate, but he did open up about Callie's living situation. If Callie does end up living with Robert, she could easily decide to go back and live with the Fosters, which, would in turn make Robert "feel like a failed parent," Smith said. He then added, "He does know that she has a good situation at the Fosters too, so it's not a loss in any direction. It's kind of a win-win situation. It's more a of a, 'Look, she's my daughter. Biologically, she should be at the Quinns.'"
Overall, Smith assured me that we'll "start seeing a lot of head butt between the Fosters and the Quinns," so it definitely sounds like a lot more drama is headed our way.
Images: Tony Rivetti, Adam Taylor/ABC Family